CAE Software integrates fluid engineering, mechanical design.
Press Release Summary: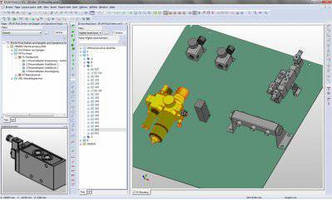 July 16, 2012 - Fostering design standardization, Eplan Fluid lets fluid engineers save and re-use frequently used subsystems as macros. This accelerates engineering while safeguarding quality. Together with electrical engineering, workflow helps reduce errors and lets engineer focus on selection and dimensioning of components, fluid system connections, and correct positioning. Fluid symbols, 3D data, and electrical actuation are directly linked to parts list and technical specifications of equipment.
EPLAN Software und Service GmbH & Co. KG
Original Press Release
Eplan Fluid Professional: Integrated Engineering with Mechanical System Design
Press release date: July 5, 2012
Standardization simplifies the process
Fluid engineers can standardize their engineering design using Eplan Fluid, and save and re-use frequently used subsystems in the form of macros directly in the designing. Specialist knowledge is therefore retained and can be retrieved at any time. This speeds up engineering and safeguards quality throughout all disciplines. Together with electrical engineering, the workflow also provides an opportunity to avoid costly errors, particularly in view of the increasing complexity of mechatronic components such as valve islands.
The know-how of the fluid engineer is therefore used where it is needed: during the selection and dimensioning of components, the fluid system connections and their correct positioning. Aspects such as hose lengths, heat generation, energy efficiency, mechatronic interaction and reducing installation space can be calculated at an early stage in this multi-disciplinary workflow.
Summary: The benefits for the engineer are obvious: 3D data, fluid symbols and electrical actuation are directly linked to the parts list and the technical specifications of the equipment. The result: engineering and documentation costs are reduced.
EPLAN Software & Service EPLAN Software & Service develops engineering solutions, which accelerate the product development process. Interdisciplinary expert systems assure the highest degree of productivity and data integration. The solution provider develops customer-specific and tailor-made PDM and PLM concepts and provides comprehensive services such as customizing, consulting and training. Innovative development competence, a consistently practical approach, and international presence are the resulting success factors. EPLAN is part of Rittal International and thus of the Friedhelm Loh Group with 11,500 employees around the world and forecast sales of 4 billion USD in 2011. EPLAN is therefore synonymous with continuity and investment security. Four offices in North America and our presence in 50 countries support 25,000 customers with 80,000 installations worldwide. The corporate motto - 'Efficient Engineering' - underlines the proficiency of optimized, efficient processes, which keep companies competitive in the long term.
EPLAN Software & Services LLC 37000 Grand River Ave., Suite 380v Farmington Hills, MI 48335 USA Christine KNAPIK Phone: +1-630-408-3863 Fax: +1-248-945-9210 Knapik.c@eplanusa.com