CAD Software enables re-engineering from scanned data.
Press Release Summary: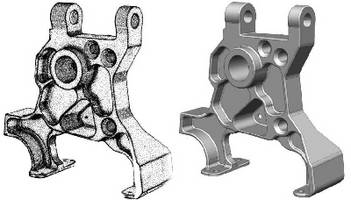 April 11, 2014 - Facilitating design of products and tooling, PowerSHAPE Pro 2014 R2 offers solid, surface, and direct modeling, together with reverse engineering functionality. All models can be simplified with option that merges fragmented faces into single, continuous surface. Smart Feature Manager lets users identify all features within solid in single operation, while Smart Feature Selector allows multiple similar features to be found and selected, regardless of where they appear in model's history tree.
Original Press Release
Delcam's New PowerSHAPE Pro Gives Faster, Easier Re-engineering from Scanned Data
Press release date: April 2, 2014
The 2014 R2 release of Delcam's PowerSHAPE Pro CAD software includes a range of new functionality for the design of products and tooling.  In particular, the new version introduces powerful new tools to make re-engineering complex parts from scanned data faster and easier, plus an option to merge disjointed faces within a solid and so make direct modelling operations more robust. 

Full details, including video demonstrations of the new functionality and the option to download an evaluation version, are on www.delcam.tv/ps2014R2

By offering a combination of solid, surface and direct modelling, together with reverse engineering functionality, PowerSHAPE Pro provides the most comprehensive range of design techniques available in a single CAD program.  Having all the different technologies in the same package reduces the need to transfer data between multiple programs and so streamlines the whole product development process.  At the same time, the combination of quick and easy direct modelling options, together with powerful and flexible surface modelling, makes PowerSHAPE the perfect choice for design for manufacture.

The new automated tools for re-engineering provide quicker and simpler methods for segmenting a mesh of scanned data into primitive regions, such as planes, spheres, cones, cylinders and tori, as well as into revolved or extruded surfaces.  Primitive surfaces or solids are then fitted automatically to those regions.  The user has control over the fit tolerance used when creating the geometry and over the types of primitive to be identified.

For more complex geometry, or when finer control is needed, mesh segmentation can be carried out manually.  The user simply chooses the region where the geometry is to be created and selects the primitive type to be used.  PowerSHAPE Pro then creates the surface or solid to the specified tolerance.  As each region is converted, it changes colour, making it easy to see the areas of the model that still require work.

Regions with complex, free-form geometry can now be replaced with a single surface.  The target area can be selected with a set of easy-to-use options, while a single dialogue box gives control of the fit of the surface to the mesh.  The same technique can be used for areas with large amounts of detail, such as logos or textures.

Once the main surfaces have been created, whether by automatic or manual methods, they can be trimmed together to form a single, closed solid automatically.  Interactive controls allow dynamic adjustment over how the surfaces are trimmed to each other, while specific faces can be marked so that they are kept or deleted.

All PowerSHAPE Pro models, including those created by reverse engineering, can now be simplified with a new option that merges fragmented faces into a single, continuous surface.  This simplification makes subsequent operations, such as adding draft to complex regions of the model, much easier and also improves the operation of many of the direct modelling tools in the software.

Following the introduction of the Smart Feature Manager in PowerSHAPE Pro 2014, these capabilities have been enhanced with the addition of the Smart Feature Selector.  The Smart Feature Manager allows users to identify all the features, such as fillets, slots, bosses etc, within a solid in a single operation and so makes the analysis of the imported data easier and faster.  The Smart Feature Selector then allows multiple similar features to be found and selected, regardless of where they appear in the model's history tree.

The software includes a set of filters so that all the features that fulfil specific criteria can be identified within the model.  For example, the Smart Feature Selector can find all the holes having the same, specified diameter or those having radii between two values, or it can identify all the fillets with less than 2 mm radius.  Similarly, if a single feature is identified, all similar features can be selected with a single click.  Creating groups of similar features in this way makes it easier to manage the feature tree.

Once the particular group has been isolated, all the features within it can be suppressed or deleted simultaneously.  Groups of features can also be placed on layers or coloured so they can be recognised as a group within any of Delcam's CAM programs, thus simplifying their manufacture.

A new wrap option will also simplify manufacturing.  This allows a radial pocket to be created that is suitable for turn-milling with Delcam's FeatureCAM or PartMaker CAM software.  An easy-to-use wizard unwraps selected solid faces, together with any features that affect the faces.  The unwrapped geometry provides a simple 2D map that allows fast, accurate creation of the wireframe geometry that defines the feature.

Editing of surfaces has been made easier in PowerSHAPE Pro with new 3D dynamic-drag handles that give more precise control when dragging points on curves or surfaces.  As well as allowing tangencies and magnitudes to be adjusted, the handles enable points to be dragged along the direction of the surface normal or along a known axis.  Clear graphical feedback as the edit is made shows exactly how far a point has been moved and the direction of the movement.

Finally, PowerSHAPE's Intelligent Cursor can now be used on Parasolid models as well as for 2D sketching.  For many years, the Intelligent Cursor has both speeded up and simplified geometry creation by automatically highlighting items such as the centre-points of lines and circles, and any potential intersections between lines.  Now, it can also be used to snap solids together quickly, simply and accurately, or to create lines tangent to circular faces without the need to create extra wireframe geometry.

For further information on Delcam's PowerSHAPE software, please contact:
Peter Dickin, Marketing Manager
Direct phone: 44 (0)121 683 1081  e-mail: marketing@delcam.com