CAD/CAM Software meets needs of mold, tool, and die makers.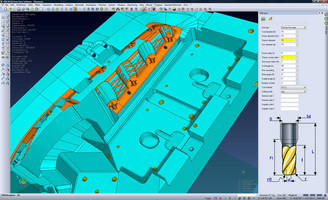 CAD/CAM Software meets needs of mold, tool, and die makers.
August 27, 2012 - Combining diverse CAD, CAM, and wire EDM functionality, VISI 20 offers fast-view capability that allows pan and zoom functionality prior to file opening. Programmable command widget and ability to show locked elements using different graphical representation are also standard. VISI Progress, included, offers tool building engine, unfolding, and middle skin functionality for flanging and blanking operations. VISI Flow, for plastic flow analysis, is 64-bit compatible.

Original Press release

Vero Software Limited
Hadley House
Gloucestershire, , GL50 3AW
United Kingdom



World Premier of VISI 20 at IMTS 2012


Significant CAD enhancements and CAM developments will be unveiled in the market-leading VISI 20 mold and die focused software, at IMTS 2012.

Due to be made available in September from Vero Software - a leading provider of CAD/CAM/CAE solutions for the tooling industry - VISI 20 is a substantial release with many new features in all areas of the product, providing further solutions for mold, tool and die makers.

Major graphic enhancements include the ability to fast-view a file before opening, allowing pan and zoom functionality. Other enhancements incorporate improved rendering, programmable command widget and the ability to show locked elements using a different graphical representation (light wireframe and light shading).

The wide range of significant CAD enhancements, which can be seen on booth E3114, introduce a new 'collaboration mode' allowing multiple users to work on the same project dataset. Other improvements include the ability to assign constraints to geometrical bodies (Concentric, Parallel, Coincident, Distance, etc) providing the tools to simulate the real movement of tooling and check for collisions. In addition, CAD translators have been updated to include support for Solid Works and Solid Edge assemblies, and support for PTC Creo and JTopen B-rep entities.

VISI 20 represents another major release with significant CAM developments. One innovation is the ability to distribute the toolpath computation onto different machines connected to the same private network. This technology uses 'Distributed computing', where the computers interact with each other to achieve a common goal. Each goal is divided into many tasks, each of which is solved by one computer connected to the network. The main advantages are that the combination of slave computers can produce a similar computing resource to a multi-processor, super-computer and keep the master PC free from heavy calculations. A typical benchmark project for a mold cavity could easily consist of 30-40 complex toolpath operations. The ability to share the computing processes across the network is a unique advantage, producing massive time savings and vital cost savings for the end user.

New toolpath algorithms include an innovative hybrid roughing strategy, improved auto rest machining, new multi-axis flank milling and new multi-axis roughing machining. The new roughing strategy is based on hybrid machining technology that allows the system to massively reduce the rapid moments, avoid tool plunging into material, optimise stepover in excess of 50% and propagate high speed transitions and movements avoiding feed reduction while machining.

The new multi-axis flank milling is a strategy developed especially to cover all issues related to machining fluid parts for turbo-engines or aeronautical parts. The flank milling is optimized to produce the target surface with only one cut, using the whole flute length of the tool. The new multi-axis roughing is a strategy that allows the user to create 5-axis roughing toolpaths on triangle meshes using different cutting patterns.

Other CAM developments include improved collision control, a new feature recognition engine, support for additional tooling (barrel cutters, convex tip cutters, radiused chamfer cutters and radiused dove cutter) and a new 'dynamic incremental stock' (DIS) command that automatically creates the stock model from the uncut material of the previous operations -- to be used as reference for subsequent milling operations.

Wire EDM developments include the ability to auto detect undercuts. When the offset is larger than the radius of an arc, the toolpath can self-intersect. The solid simulation has been enhanced to detect these conditions where the toolpath crosses and highlight these in the movement list. The user can optionally ignore these conditions or have the simulation automatically stop when they occur. New corner relief tools allow the addition of corner relief to all internal corners and external corners independently. It is usual for a user to want to apply these separately; for example to add relief to a die-only internal corner. Finally, the technology database has been enhanced so the materials presented are filtered against the machine model as opposed to the machine family, and the available wire types are filtered against the material type. This leads to a more efficient and accurate technology selection for the user.

VISI Progress developments include a new tool building engine, improved unfolding and new middle skin functionality for flanging and blanking operations. Other enhancements include a completely rewritten explode tool, improved catalogues, and continued collaboration with CADENAS.

VISI Flow, for plastic flow analysis, has been made 64bit compatible, with improvements to sequential molding, gas assisted, and overmolding, along with new tools for conformal cooling. This thermal analysis project relies on the ability to add 3D cooling circuits, produced using rapid prototyping and previously impossible to produce using traditional drilling / boring cycles.

Concluding, Marco Cafasso, VISI Development Manager, explains the rationale behind some of the recent developments. "When dealing with imported data we fully recognise the need to work as efficiently as possible with the data provided, and we focus a great deal of effort on improving the operator work-flow. One particular instance is how we've taken the extract edge command and extended this to provide the ability to automatically concatenate polyline edges into clean curves and also break complete loops into sensible curves based on angular splitting tolerances. It is this in-depth understanding of our customer processes that makes VISI one of the leading CAD/CAM systems for the mold and die industry."

About Vero
Headquartered in England, Vero Software designs, develops, and supplies CAD/CAM/CAE software that radically enhances the efficiency of design and manufacturing processes. It is a leading supplier within key sectors of the CAD/CAM/CAE industry such as plastic injection molds and progressive dies, providing its customers with exceptional value through high productivity gains and significantly reducing time to market.
Vero is represented in over 40 countries by more than 80 distributors. In addition to its extensive dealer network, it has its own direct sales operations in the UK, USA, Canada, France, Italy, China, and Japan.

Issued by Vero UK Limited
Contact - Marc Freebrey
Tel +44 (0) 1242 542040
Fax - +44 (0) 1242 542099
E-mail: marc@vero.co.uk
www.vero-software.com

---


Start Your

Free


Subscription to


Industry Market Trends

.