Brushless Servo Motor features inertia-optimized design.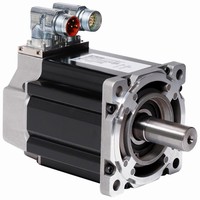 Brushless Servo Motor features inertia-optimized design.
December 13, 2007 - Available in sizes 92, 100, 115, and 142, MaxPlus-J (MPJ) series features inertia flywheel-based design and uses segmented core technology for optimal torque. Solution also employs neodymium magnets; rotate-able right-angle PS-style connectors; and resolver, incremental encoder, or absolute encoder (single- or multi-turn). Motors are capable of producing continuous torque from 12 to 173 lb-in. and peak torque from 44 to 726 lb-in. Various elements can be customized.

(Archive News Story - Products mentioned in this Archive News Story may or may not be available from the manufacturer.)
Original Press release

Parker Hannifin Corp, Electromechanical Automation Div.
27 Seaview Blvd.
Port Washington, NY, 11050
USA



Parker Releases MPJ Servo Motor


Customers get higher inertia and a better solution for industrial applications

Rohnert Park, CA, Dec. 7, 2007 - Parker's Electromechanical Automaton Division, a leading supplier of motion control technology, announces the release of the MaxPlus-J (MPJ) motor. Designed for the demanding applications found in today's high-performance servo systems, MPJ motors offer the same design specifications as Parker's popular MPP (MaxPlusPlus) motors but give users even higher inertia.

The secret to the MPJ's extra boost of inertia is its special inertia flywheel, which adds from three to 10 times the inertia of a standard MPP servo motor. This flywheel replaces the more expensive gearbox Parker traditionally added to the motor for applications where the customer has a high load-to-rotor inertia mismatch. Now, on applications where customers would normally add a gearhead, they can simply use an MPJ motor, saving money and eliminating the speed constraints normally associated with a gearhead.

The length of an MPJ is one stack longer than the standard MPP to which the inertia is added. (For example, the length of the MPJ1152 motor is equivalent to that of an MPP1153.) Parker takes the stator and magnet stack of an MPP1152 and inserts it into an MPP1153 housing with an 1153 shaft.
The "extra" rotor space on the motor shaft is now filled with an inertia flywheel.

MPJ motor features include:
o Segmented core technology - 40% higher torque
o Potted stator design - improved thermal efficiency
o Sizes 92, 100, 115 and 142
o Continuous torque: 1.3 Nm (12 lb-in) to 20 Nm (173 lb-in)
o Continuous stall torque: 1.5 Nm (14 lb-in) to 26 Nm (230 lb-in)
o Peak torque: 5 Nm (44 lb-in) to 82 Nm (726 lb-in)
o Brushless construction
o High-performance neodymium magnets
o Thermistor protection
o Resolver, incremental encoder, or absolute encoder (single- or multi-turn)
o 24-volt failsafe brake (optional)
o Rotatable right-angle PS-style connectors
o Optional IP65 shaft seal
o Two-year warranty

Common customizations include:
o Shafts (longer, shorter, diameter change, hollow shafts)
o Front flange (bolt circle, pilot, NEMA dimensions)
o Motors coatings (white, PTFE, steel-it grey)
o Non-standard feedback devices
o Special connectors
o Special stator windings

About Parker Electromechanical Automation A division of Parker Hannifin Corporation's Automation Group since 1987, Electromechanical Automation is a pioneer, developer and manufacturer of full-spectrum computer-based motion controllers, servo/step motor drives, servo motors and human-machine interfaces, positioning systems, gearheads and gear motors. These products automate the manufacturing of a significant fraction of the world's goods and services. Electromechanical Automation products are sold via independent authorized Automation Technology Centers-a group of nearly 100 professional, highly trained organizations with more than 135 points-of-presence throughout the world-or directly from Electromechanical Automation by logging on to buy.compumotor.com. An informative and up-to-date Web site with downloadable libraries, tutorials, and background information on motion control and automation is located at www.parkermotion.com.

About Parker Hannifin
With annual sales of $10 billion, Parker Hannifin is the world's leading diversified manufacturer of motion and control technologies and systems, providing precision-engineered solutions for a wide variety of commercial, mobile, industrial and aerospace markets. The company employs more than 57,000 people in 43 countries around the world. Parker has increased its annual dividends paid to shareholders for 51 consecutive years, ranking it among the top five longest-running dividend-increase records in the S&P 500 index. For more information, visit the company's Web site at parker.mediaroom.com or its investor information site at www.phstock.com.

---