Product News: Electrical Equipment & Systems
Baseplate-Cooled Power Supply Units deliver 500 W from ½U format.
Press Release Summary: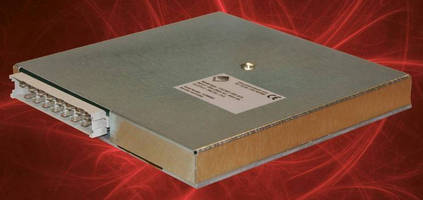 April 17, 2013 - Comprised of baseplate-cooled power modules with ½U height form factor, 2.2 x 17.5 x 18.0 cm FAC series operates from -20 to +100°C, features PFC functionality, and can deliver 500 W output from 85–264 Vac input. Standard output options include 12, 15, 24, 28, and 48 Vdc, and custom voltages are available. Designed for cold wall mounting, these IEC60950-1 and EN 61000 compliant units feature built-in hold-up capability and H15 connector to allow hot-swap redundancy.
Original Press Release
500W, ½ U Format, Baseplate-Cooled Power Supply Units
Press release date: April 9, 2013
High density products well suited to restricted airflow implementations

The accompanying image can be downloaded in both high and low resolution by clicking here

• Ultra-low profile
• Power factor correction functionality
• 85VAC to 264VAC input range
• -20°C to +100°C operation

Powerstax plc, specialist provider of highly optimised power sources, introduces the FAC series of baseplate-cooled power modules with a ultra-slim ½U height form factor.  Featuring power factor correction, these compact (2.2cm x 17.5cm x 18.0cm) units can deliver a 500W output from an 85VAC to 264VAC input. They are offered in 12VDC, 15VDC, 24VDC, 28VDC and 48VDC output options, with custom voltages available. Hold-up capability is built in to the unit, along with a convenient H15 connector to allow hot-swap redundancy.

Designed for cold wall mounting, these modules are highly effective in applications where environmental considerations or space constraints mean that little (or no) forced air cooling can be provided. These include outdoor signage and telecommunications infrastructure (such as street cabinets, pico cell base stations, wireless access points, etc.), and industrial power systems.

IEC60950-1 and EN 61000 compliant, the series operates within a temperature range spanning from -20°C to +100°C. A fan cooled version with a 1U height is also available for rack or system mounting, which is environmentally sealed and has a built-in heat sink. To increase power output levels, units can be paralleled by a simple single wire connection. This allows multi-kW systems to be realised.

According to Rob Hill, Director of Sales & Marketing at Powerstax, "The FAC series combines high performance DC-DC converter technology with a sophisticated front end to create an ultra-low profile AC-DC power solution that is highly suited to power system applications where airflow is restricted. It underlines our ability to supply customers with power solutions that can deal with deployment in the most demanding conditions."

About Powerstax:
Powerstax specialises in customised and configurable system-level power for demanding environments. Products include AC-DC power supply units, DC-DC converters and 19" rack mount power solutions. It also offers highly compact and ruggedized package solutions for applications that are space-critical or situated in harsh environments. The company's patented power technology has been deployed in military vehicles, defence, avionics, high-end industrial, oil & gas, medical, railway and commercial power systems across the globe. Through the acquisition of the Drake brand of transformer rectifiers, Powerstax is able to provide robust power up to 1MW to water treatment & purification, corrosion prevention and metal finishing applications.

For more information contact:
Powerstax,
Unit 5, Armstrong Mall, Southwood Business Park, Farnborough, GU14 0NR, UK.
Tel: +44(0)1252 407800  
Fax: +44(0)1252 407810
Email: sales@powerstaxplc.com
Website: www.powerstaxplc.com

Issued by:
Mike Green
Pinnacle Marketing Communications Ltd
Tel: +44 (0)20 84296543
E-mail: m.green@pinnaclemarcom.com
Website: www.pinnacle-marketing.com