Product News: Vision Systems
Augmented Reality Solution helps optimize surgeon performance.
Press Release Summary: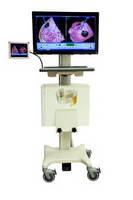 April 15, 2014 - Integrating with operating room technology, Surgical Navigation Advanced Platform provides augmented reality and advanced 3D capabilities. Unique virtual-reality guidance helps neurosurgeons determine safest and most efficient pathway to remove cerebral tumors and treat vascular anomalies. With SNAP, surgeons can execute surgery plan while in operating room utilizing patient's CT/MRI scans. System also allows surgeons to see behind arteries and other critical structures.
Original Press Release
Surgical Theater, LLC Launches Surgical Navigation Advanced Platform - Augmented Reality in the Operating Room
Press release date: April 7, 2014
Innovation allows surgeons to see behind arteries and other critical structures, enhancing accuracy and efficiency

CLEVELAND, -- Surgical Theater, LLC today launched their new Surgical Navigation Advanced Platform (SNAP), a product that integrates with operating room technology to provide advanced 3D capabilities and augmented reality, allowing surgeons to enhance their surgery performance. The SNAP provides neurosurgeons unique virtual-reality guidance to determine the safest and most efficient pathway to remove cerebral tumors and treat vascular anomalies. The SNAP, currently being considered for Food and Drug Administration (FDA) clearance, is on display for the first time this week at the American Association of Neurological Surgeons annual meeting in San Francisco, CA.

With the SNAP surgeons can execute their surgery plan while in the operating room utilizing a patient's CT/MRI scans, allowing enhanced accuracy and efficiency. It also provides innovative features that allow surgeons to see behind arteries and other critical structures, something not possible until now. Clearance by the FDA is expected mid-year.

"In complex brain surgeries using the SNAP provides the ability to rotate the 'landscape' or make it semi-transparent, and 'see what you can't see'," said Dr. Joshua Bederson, Chairman of the Neurosurgery Department at Mount Sinai Hospital in New York City who was involved in the SNAP design and validation. "The SNAP's augmented reality features allow for accuracy to be maintained throughout the procedure and for simulation of all phases of complex surgeries. This device is a very important innovation which could have a significant role in improving outcomes and making surgeries safer."

Surgical Theater applies flight simulation technology to brain surgery and has developed software-based solutions that combine the science of aviation with advanced CT/MRI imaging technology. The company's line of products, The Surgical Rehearsal Platform (SRP) and now the SNAP, are based on 3D imaging technology and augmented reality that allows a surgeon to perform a real-life "fly through" of a "patient-specific" surgery. The SRP allows for pre-living surgeries while preparing outside the operating room and the SNAP will be utilized to take the pre-planned pathway into the operating room to be used during a procedure. The unique software utilizes flight simulator technology to permit the remote connection of multiple platforms; participants anywhere in the world can simultaneously work together and practice the same case with real-time feedback and collaboration.

"Surgical Theater has been providing neurosurgeons the ability to 'Pre-Live the Future' with our planning platform, the SRP. Soon, with the SNAP, surgeons will be able to re-live their surgery plan in the operating room," said Moty Avisar, Surgical Theater CEO and Co-Founder. "Using our technology supports every neurosurgeon's goal of providing their patients with the best possible outcome of what can often be delicate and complicated brain surgery."

Since the SRP obtained FDA clearance in February 2013, Surgical Theater has installed SRPs in leading research and teaching hospitals across the United States. Hospitals include: The Ronald Reagan UCLA Medical Center, The Mount Sinai Hospital, Mayo Clinic, University Hospitals Case Medical Center, University Hospitals Rainbow Babies and Children's Hospital, NYU Langone Medical Center, and others. The company estimates that to-date, the SRP has been utilized in preparing for more than 300 surgeries.

Surgeons are reporting that the images, as well as the dynamic and interactive modeling of the patients' cerebral tumor and vascular cases, provided by the SRP, are unique in their precision. This precision is enabling surgeons to gain clinical insight that was previously unavailable and which now allows them to perform enhanced planning and navigation of complex cases. Surgical Theater was featured on CNN as a breakthrough technology in surgery, and also recently featured on FOX News and Extra.

About Surgical Theater, LLC
Surgical Theater, LLC is a privately held, Cleveland, Ohio-based startup that produces virtual realistic and interactive scenes where surgeons are able to plan, rehearse and tele-mentor their specific missions. The Company provides the opportunity for novice and experienced surgeons to "pre-live the future" by rehearsing their procedure prior to the actual procedure, similar to what pilots do prior to flying complex missions. Such purposeful practice or warm-up has been shown to benefit both novice and experienced surgeons; it may provide an important new tool in the surgeon's tools to improve patient safety and outcomes. For more information visit www.surgicaltheater.net.

Video - http://origin-qps.onstreammedia.com/origin/multivu_archive/PRNA/ENR/FX-MM99608-20140407-1.mp4

CONTACT: Carleen Bobrowski, VP Marketing & Business Development, cbobrowski@surgicaltheater.net, (216) 536-3895