Product News: Test & Measuring Instruments, Portable Tools
Analog Torque Wrench Screwdrivers are adjustable and ergonomic.
Press Release Summary: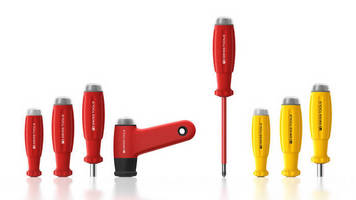 March 10, 2014 - To promote safe and reliable operation, PB Swiss Tools MecaTorque analog torque wrench screwdrivers feature electronics- and battery-free, mechanical design. Torque is adjustable via adjustable scale under removable cap, and handles can also be adjusted if needed. Handle variants include small handle for 10 to 50 Nm fits interchangeable blades PB 53, 2 larger handles for use with PB 215 interchangeable blades and C6 or E6 PrecisionBits, and pistol-style for PB 225 interchangeable blades.

Original Press Release
Count on Tools Releases MecaTorque Line by PB Swiss Tools
Press release date: February 1, 2014
GAINESVILLE, GA – Count On Tools Inc. (COT), a leading provider of precision components and SMT spare parts, announces the launch of PB Swiss Tools' MecaTorque tools. This new line of analog torque wrench screwdrivers is simple, reliable and safe for application.

The new PB Swiss Tools MecaTorque torque tools can be used in a multitude of ways. Due to their ergonomic handle construction and mechanical design without electronics and without batteries, they are reliable and safe for application. If needed, the handles can be adjusted: Users can adjust their torque without additional tools. This is done by unlocking the turning cap at the end of the handle, adjusting the desired value on the scale, and locking the turning cap again.

The new MecaTorque handle is available in four variants that are compatible with PB's existing line of interchangeable blades and PrecisionBits. The handle for the range from 10 - 50 Nm is tailored to precise work: It is smaller and fits the interchangeable blades PB 53 for precision work. The larger handle is available in two versions: One for use with PB 215 interchangeable blades and one for use with C6 or E6 PrecisionBits. For high torques, the pistol-style handle provides support for perfect use. It is ideally matched for the use of PB 225 interchangeable blades.

All handles of the MecaTorque consist of non-slip material and feature ergonomics that are adjustable for various applications. The display on the analog scale is available as a metric [Nm and a non-metric [ft*lbf design. The new SwissGrip torque handles in ESD design ensure the discharge of electrostatic charges as well as when working in ESD-protected areas.

According to PB Swiss Tools, "The Emmental company PB Swiss Tools makes professionals more successful. Once again, the Swiss company brings a sophisticated innovation to the market. Its new MecaTorque torque tools allow safe, exact screw actions while working. Those using MecaTorque tools for their work have a handle on their working processes. The inside of the new products guarantees continuous, even tightening of screws with the specified torque. The MecaTorque is guaranteed at all times, over many years, in all application areas from manufacturing and assembly to  electronics."

All of the torque handles are supplied with test certificate ±6 percent according to EN ISO 6789. PB Swiss Tools offers a warranty of three years against manufacturing and material defects for all torque tools. The MecaTorque is 100 percent developed and manufactured in Switzerland.

All PB Swiss Tools products can be purchased online at www.pbtools.us.

About Count On Tools Inc.
Count On Tools Inc., a precision component manufacturer specializing in all aspects of the machining industry, has been setting new performance standards in the SMT pick-and-place nozzle market since 1991. As the ORIGINAL source for high-quality, low-cost vacuum placement nozzles and associated consumables, they have pioneered with world-class development and process engineers that combine to ensure that innovation and competitiveness is applied to all of its extensive product range. The company also stands behind its products 100% with a full warranty. Count On Tools' products are in use at many of the world's leading electronics manufacturing companies. Proven engineering expertise, coupled with the latest in design and manufacturing technology, has allowed the company to simplify the complexities of the industry and deliver a solution to its customers.

The company also maintains and supports a strong position in the hand tool industry, offering the highest quality hand tools in the world with PB Swiss Tools. These tools compliment any and all high-tech environments requiring optimum performance from both their equipment and technicians.

Contact:
Curt Couch
President
Count On Tools Inc.
2481 Hilton Dr., Suite 3
Gainesville, GA 30501
770-538-0411
E-mail: sales@pbtools.us
Web site: www.pbtools.us