AC/DC Power Supplies deliver up to 360 W continuous operation.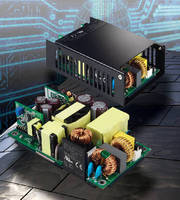 AC/DC Power Supplies deliver up to 360 W continuous operation.
August 31, 2012 - Featuring 90-264 Vac input with active PFC, Cincon CFM361S Series consists of +12/+24/+48 V output models with 5 VSB at 500 mA and 12 V Fan output at 300 mA. Open frame version, measuring 3 x 5 x 1.6 in., offers 360 W output power with 10 cfm airflow and convection-cooled rating of 300 W at 220 Vac/240 W at 100 Vac. U-Frame/Cover models offer 360 W convection-cooled operation at 220 Vac/300 W at 110 Vac. Units are safety approved to UL/EN60950-1 Standards and bear CE Mark.

(Archive News Story - Products mentioned in this Archive News Story may or may not be available from the manufacturer.)
Original Press Release

PowerGate LLC
3000 Coronado Dr.
Santa Clara, CA, 95054
USA



AC/DC Power in 3 x 5 x 1.6" with up to 360 watts Continuous Operation


PowerGate LLC announces the release of the Cincon CFM361S series, a product family of high-density AC/DC power supplies. The open frame version is in the industry standard 3 x 5 x 1.6" footprint with a fully enclosed version measuring 3.4 x 5.4 x 1.7". The magnetics of the power supply are tied to a baseplate underneath the PCB to provide heat-spreading and baseplate cooling while the optional UFrame/cover version provides additional cooling for increased output power.

Open-Frame PCB Models offer 360 Watts Output Power with 10cfm airflow and an industry-leading convection-cooled rating of 300W at 220VAC / 240W at 110VAC. The U-Frame/Cover models offer 360W convection cooled operation at 220VAC / 300W at 110VAC. Detailed de-rating curves are available in the specification. The series consists of single +12 / +24 / +48V output models with 5VSB @ 500mA and 12V Fan Output @ 300mA. All models feature 90-264VAC Input Range with Active PFC, -20 to +70°C (open Frame) / -20 to +85°C (Covered) operating temperatures, Remote Sense, and Remote Enable.

Models are safety approved to UL/EN60950-1 Standards and bear the CE Mark (LVD).
Evaluation quantities are available now with standard lead times of 10-12weeks. Specifications and pricing are available from www.powergatellc.com. Pricing is as low as $132.00 in 100 piece quantities for open frame models / $143 for covered models. Contact PowerGate LLC for Sales & Technical Support at (866) 588-1750 or sales@powergatellc.com.

For further information and reader enquiries:

Paul Christiansen, PowerGate LLC, 2390 Owen Street, Sunnyvale, CA 95054

Tel: (408) 588-1750 Email: pchristiansen@powergatellc.com

Fax: (408) 588-1751 Web: www.powergatellc.com

PowerGate LLC is a power solutions company providing inventory, logistical and technical support to customers throughout North America. PowerGate is dedicated to being the premier source for power products by providing superior customer service and technical support with flexible terms and inventory programs.

---