3D Sensor Reference offers flexibility and precision.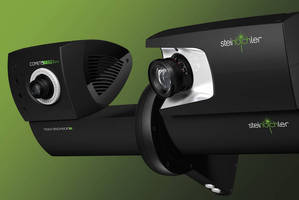 3D Sensor Reference offers flexibility and precision.
November 9, 2011 - Offering complete solution for precision 3D digitalization, COMET 5 Eco can be positioned on various handling systems and includes INSPECTplus inspection software, column stand, and corresponding computer hardware. Modular construction enables system to adapted to various measuring field sizes, enabling individual configuration for respective measuring tasks. COMETplus software, projection technology, and one-camera technologies optimize speed as well as data quality.

(Archive News Story - Products mentioned in this Archive News Story may or may not be available from the manufacturer.)
Original Press release

Steinbichler Optotechnik GmbH
Georg-Wiesböck-Ring 12
Neubeuern, ,
Germany



COMET 5 Eco - Steinbichler Optotechnik Presents the New 3D Sensor Reference


Steinbichler Optotechnik GmbH, the Neubeuern-based worldwide leading provider of optical measuring and sensor technology, is presenting the COMET 5 Eco as a reduced-price complete solution for high-precision 3D digitalisation. "The particularly innovative sensor concept of COMET 5 Eco offers the greatest flexibility and precision for demanding tasks. In the process, the modular construction enables the system to be easily and quickly adapted to various measuring field sizes and thus enables individual configuration for the respective measuring tasks. The COMET 5 Eco has all of the product characteristics of the tried and tested COMET technology and offers excellent value for money, as it is up to 15 % cheaper compared to the previous COMET 5 models," reports Herbert Daxauer, product manager for 3D digitalisation at Steinbichler Optotechnik GmbH.

The COMET 5 Eco is perfectly designed to meet the constantly increasing demands of the most diverse areas of industry - particularly product development and quality assurance - and combines unique productive efficiency with a high level of user comfort. A particular highlight is - as with the COMET 5 - the excellent measuring speed: not only are data acquisition times for digitalisation tasks 6 times shorter; with the current COMETplus software, the measuring speed is also 4 times faster thanks to reduced sensor resolution. The speed is above all a great advantage in the case of measuring in a vibration-prone industrial environment. The consistent use of the latest computer hardware and software technologies also enables extremely fast post-processing of the measured data.

The projection technology newly developed for the COMET 5 combined with tried and tested one-camera technology also guarantees a high acquisition speed as well as excellent data quality. The system carries out all measurements quickly and precisely and is highly suitable for effective use in production-related quality assurance. The structure features extremely high stability and can also be used over a wide temperature range. The impressive stability is also crucial for automated measurement tasks: this allows the sensor to easily adapt to an industrial robot without, for example, considerable acceleration forces influencing the measuring precision. Thanks to its robust construction, the COMET 5 Eco is also very well-suited to mobile use and can be positioned on various handling systems.

The COMET 5 Eco can be used for the most diverse of applications in a large variety of areas of industry: in quality control/inspection as well as in work tool and mould construction, design, rapid manufacturing, reverse engineering and 3D scanning. Customers receive the system as a complete package, which, among other things, includes the INSPECTplus inspection software, the column stand, the corresponding computer hardware and three-day training. The new version of the INSPECTplus software offers CAD interfaces for all standard CAD systems such as Catia V4/V5, Pro/E, Unigraphics, SolidWorks and XT Parasolid as well as standard exchange formats such as IGES, VDA-FS, STEP and JtOpen.

The successful sales figures of the COMET L3D sensor presented in mid-2011 enable Steinbichler Optotechnik to negotiate more beneficial buying conditions, which has a very positive effect on the price of the COMET 5 Eco. "Both in the entry sector and with the COMET 5 11M Eco - which currently offers the highest resolution on the market - we have managed to reduce prices by up to 15% in the complete package. The resounding success of the COMET L3D system has shown that our customers are increasingly cost-conscious when making purchases and that ROI considerations are having a greater influence on purchase decisions. With the new COMET 5 Eco, we can now offer extremely economically attractive products even in the high-end sector," summarises Herbert Daxauer.

Steinbichler Optotechnik GmbH is well-known around the world for its years of expertise in high-precision optical measurement and sensor technology as well as for efficient hardware and software solutions designed primarily around the needs of the automotive, aerospace and tire industries. Founded in 1987 and headquartered in Neubeuern, Germany, the international company today has a staff of 150 employees. In addition to a worldwide distributor network, Steinbichler has subsidiaries in the USA, Brazil, China, India and Portugal. Reference customers include Airbus, Audi, BMW, Boeing, Daimler, EADS, Siemens, Sony and Thyssen. Further information about Steinbichler Optotechnik is available on our website at www.steinbichler.de.


---