Press Release Summary: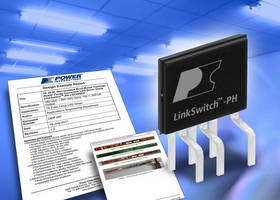 September 27, 2011 -
Original Press Release
Power Integrations Releases Compact 25-Watt LED Lighting Ballast Reference Design Sized for T8 Tubes
Press release date: August 24, 2011
PH LED driver ICs meet PF and THD specifications, reach 91% efficiency; target commercial and industrial lighting
SAN JOSE, CALIF. - Power Integrations (Nasdaq: POWI), the world leader in LED driver ICs for general lighting applications, today published a new reference design for a 25-watt LED T8 tube ballast power supply. Notable for industry-leading efficiency of greater than 91%, the design (DER-287) also meets commercial requirements for power factor (PF greater than 0.9) and harmonic distortion (EN61000-3-2 Class C). DER-287 is a single-stage converter built around LNK409EG, a member of the LinkSwitch-PH family of LED driver ICs. Single-stage technology greatly increases product lifetime by eliminating the opto-isolators and large aluminum electrolytic input bulk capacitors required by conventional two-stage solutions.
Explains Andrew Smith, product marketing manager at Power Integrations: "Achieving very high power-conversion efficiency is as critical as LED choice in maximizing overall luminous efficacy of a lighting fixture. Efficiencies above 88% are extremely difficult to achieve cost-effectively in a T8 tube form factor unless a single-stage topology is used; this design easily exceeds 91%." Smith added: "Most regions require either low THD or high PF in commercial and industrial lighting installations - specifications that the LinkSwitch-PH LED driver IC easily meets, enabling designs that can be used worldwide. Details are available in this new report."
In addition to the highly integrated monolithic design that combines controller, driver, and switching MOSFETs into a single package, Power Integrations' LinkSwitch-PH family features a number of protection features, including over-temperature and over-current protection. This means that very few external components are required to implement the solution - a very important consideration in compact T8 tube enclosures.
This new design example report (DER-287) can be downloaded from the Power Integrations website at
www.powerint.com/sites/default/files/PDFFiles/der287.pdf.
The LinkSwitch-PH video, data sheet, application notes, and other design examples are available on the company's website at
www.powerint.com
/linkswitch-ph.
About Power Integrations Power Integrations is the leading supplier of high-voltage integrated circuits used in energy-efficient power conversion. The company's innovative technology enables compact, energy-efficient power supplies in a wide range of electronic products, in AC-DC, DC-DC, and LED lighting applications. Since its introduction in 1998, Power Integrations' EcoSmart(TM) energy-efficiency technology has saved an estimated $4.9 billion of standby energy waste and prevented millions of tons of CO2 emissions. The company's Green Room web site provides a wealth of information about "energy vampires" and the issue of standby energy waste, along with a comprehensive guide to energy-efficiency standards around the world. Reflecting the environmental benefits of EcoSmart technology, Power Integrations' stock is included in The Cleantech Index® and the NASDAQ® Clean Edge® Green Energy Index. For more information, please visit
www.powerint.com
.
Media Contact
Peter Rogerson
Power Integrations, Inc.
(408) 414-8573
progerson@powerint.com
Press Agency Contact
Nick Foot
Billings Europe PR Agency
+44 (0) 1491-636 393
nick.foot@billings-europe.com
Power Integrations, LinkSwitch, eSIP, EcoSmart, and the Power Integrations logo are trademarks or registered trademarks of Power Integrations, Inc. All other trademarks are the property of their respective owners.