Press Release Summary: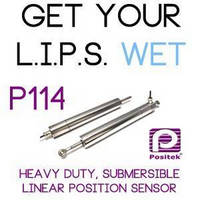 May 2, 2014 - The Positek P114 is a (L)inear (I)nductive (P)osition (S)ensor that is submersible, durable, and is available with stroke lengths from 50mm to 600mm. The value of the P114 can be found in its environmental versatility.  This sensor is suitable for underwater applications up to 10 Bar (145 psi), and will stand up to significant amounts of shock and vibration. The P114 design is a derivative of the P101, and the underlying inductive technology is identical, ensuring accuracy and reliability. This sensor is ideal for applications in fields ranging from offshore drilling to subterranean mining. Positek offers their entire P-series line of products in Intrinsically Safe versions as well, with the P114's counterpart being the X114. For more information on how the P114 would fit into your application, call Everight Position today.

About Everight Position
Everight Position is a company that specializes in specifying non-contact sensor solutions to engineers across North America. Everight has personal and exclusive relationships with many of the world's leading sensor manufacturers, and brings decades of experience to the table. We pride ourselves on fast and informative service and always place the highest emphasis on the needs of the end user.

Contact Information:
Everight Position Technologies
114 Forrest Ave, Suite 110
Narberth, PA 19072
Ph: 856–727–9500
Fax: 610–672–9663



Everight Position Technologies Corp. - Narberth, PA
Original Press Release
Positek's P114 -- Get Your L.I.P.S. Wet!
Press release date: May 1, 2014
The Positek P114 is a (L)inear (I)nductive (P)osition (S)ensor that is submersible, durable, and is available with stroke lengths from 50mm to 600mm. The value of the P114 can be found in its environmental versatility.  This sensor is suitable for underwater applications up to 10 Bar (145 psi), and will stand up to significant amounts of shock and vibration. The P114 design is a derivative of the P101, and the underlying inductive technology is identical, ensuring accuracy and reliability. This sensor is ideal for applications in fields ranging from offshore drilling to subterranean mining. Positek offers their entire P-series line of products in Intrinsically Safe versions as well, with the P114's counterpart being the X114. For more information on how the P114 would fit into your application, call Everight Position today.

About Everight Position
Everight Position is a company that specializes in specifying non-contact sensor solutions to engineers across North America. Everight has personal and exclusive relationships with many of the world's leading sensor manufacturers, and brings decades of experience to the table. We pride ourselves on fast and informative service and always place the highest emphasis on the needs of the end user.

Contact Information:
Everight Position Technologies
114 Forrest Ave, Suite 110
Narberth, PA 19072
Ph: 856–727–9500
Fax: 610–672–9663