Press Release Summary: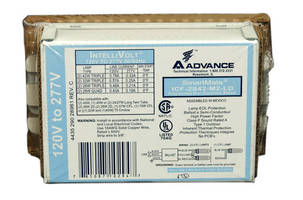 June 30, 2009 -
Original Press Release
Philips Lighting Electronics Drives Sustainable New Packaging
Press release date: June 18, 2009
Reduces carbon footprint with greener packaging model
ROSEMONT, IL - Demonstrating that small changes can often have a big impact on the environment, Philips Lighting Electronics proudly announces that it has made great strides in reducing its carbon footprint and preserving the environment through innovative changes to the package design and shipment of its SmartMate® family of electronic ballasts for 4-pin compact fluorescent lamps.
Following an evaluation of the product's carton size and design, the Philips Lighting Electronics team was able to reduce carton area by 60%, an initiative which will result in an estimated reduction of over 625,000 square feet of corrugated each year - the environmental equivalent of saving 51 trees, reducing 11 homes worth of energy consumption, preventing the greenhouse gases generated by 16 cars, or eliminating 1 full garbage truck full of waste from landfills annually.
On top of reductions to SmartMate's individual carton area, PLE further streamlined SmartMate's Master Carton, which still holds 12 units but which has now been reduced in size by 45%. As a result, the SmartMate pallets hold 78% more product than before, an enhancement which has driven related reductions in transportation costs, storage needs, and pollution emission.
"We are delighted with the proactive green changes we've made to our SmartMate packaging and plan to use these accomplishments as a model for other product lines," confirms Philips Lighting Electronics Senior Director of Fluorescent Product Management Tom Bosworth. "Now not only do our products themselves help end users to achieve their energy-saving lighting objectives, but our packaging and shipping processes further help to preserve natural resources and promote and enhance efficiency and sustainable design."
Energy efficiency, environmental responsibility, and sustainability have long been guiding principles behind Philips' product and service innovations and Philips has routinely been listed as one of the Top 100 most sustainable companies in the world. Philips Lighting Electronics' new, greener packaging within its SmartMate electronic ballast family represents yet another revolutionary way in which Philips is optimizing lighting quality while helping to drive a more energy-efficient future for generations to come.
For further information, please contact:
Philips Lighting Electronics North America
Susan Bloom
Tel: (732) 563-3517
E-mail: susan.bloom@philips.com
About Philips Lighting Electronics North America
A leader in the ballast industry for over 60 years, Philips Lighting Electronics N.A. offers a full line of Philips Advance branded ballasts and drivers for fluorescent, HID, and LED light sources to the market's broad range of lighting fixture manufacturers and electrical distributors. For more information on Philips Lighting Electronics' complete product line and range of Smart Solutionsä, visit
www.philips.com/advance
or call (800) 322-2086. Philips Lighting Electronics N.A. is a division of Philips Electronics North America. News from Philips Lighting Electronics and Philips is located at http://www.philips.com/media.
About Royal Philips Electronics
Royal Philips Electronics of the Netherlands (NYSE: PHG, AEX: PHI) is a diversified Health and Well-being company, focused on improving people's lives through timely innovations. As a world leader in healthcare, lifestyle and lighting, Philips integrates technologies and design into people-centric solutions, based on fundamental customer insights and the brand promise of "sense and simplicity". Headquartered in the Netherlands, Philips employs approximately 116,000 employees in more than 60 countries worldwide. With sales of $38 billion in 2008, the company is a market leader in cardiac care, acute care and home healthcare, energy efficient lighting solutions and new lighting applications, as well as lifestyle products for personal well-being and pleasure with strong leadership positions in flat TV, male shaving and grooming, portable entertainment and oral healthcare. News from Philips is located at
www.philips.com/newscenter.