Press Release Summary: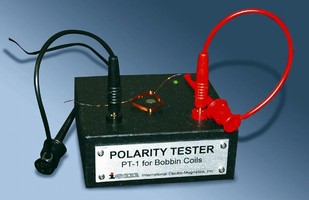 October 21, 2008 -
International Electro-Magnetics, Inc. - Palatine, IL
Original Press Release
Handy Tester Indicates Relative Polarity
Press release date: October 10, 2008
Polarity Tester
Chicago October 10. 2008
IEM introduces the PT-1 Polarity Tester for bobbin and free wound coils. The tester uses a magnetic field to energize the coil under test, and it then compares the coil output to the original signal. A red / green LED indicates the relative polarity of the coil. The PT-1 is easy to use and gives a reliable indication. It is useful for verifying the relative polarity of motor field coils and of polarity sensitive solenoid type windings.
IEM has been building coil testing equpment since 1976. We offer a line of shorted turns testers and turns counters for bobbin and toroidal windings.
Company Name: International Electro-Magnetics Address 1: 350 N. Eric Dr. City: Palatine State: IL Zip: 60067 Country: USA Phone: 847-358-4622 URL:
www.iemmag.com
Contact Name: Tony Pretto Title: President E-mail: t.pretto@iemmag.com