Press Release Summary: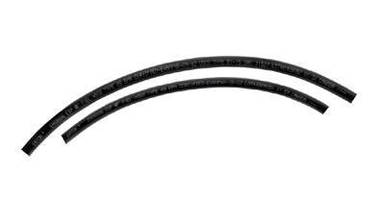 June 24, 2009 -
Original Press Release
Eaton EPA-Certified Tubing and Hose Help Customers Meet Sustainability Requirements for Reduced Evaporative Emissions
Press release date: June 16, 2009
EDEN PRAIRIE, Minn. - Diversified industrial manufacturer Eaton Corporation today announced that two hose and tubing products designed to help customers reduce evaporative emissions and meet mandated sustainability requirements have received Environmental Protection Agency (EPA) certification. The products, the EH049 ESP(TM) tubing and EH089 ESP(TM) hose, are intended for use in marine, gas powered lawn care machines, gas and diesel powered turf equipment, and garden equipment fuel systems.
EH049 ESP tubing and EH089 ESP hose utilize a multi-layer construction including a polyvinylidene fluoride (PVDV) barrier, polyester reinforcement and a black melt-processible rubber (MPR) cover to achieve hydrocarbon permeation rates of less than 5 g/m
2
per day while providing excellent strength and flexibility. Both products can be used with gasoline, petroleum-based chemicals, and bio-diesel fuel up to B100.
This EPA certification covers EPA-mandated evaporative emissions requirements for fuel systems taking effect in 2010, 2011, and 2012," says Mike Henning, Eaton senior product manager. "It also covers California Air Resources Board (CARB) requirements, SAE J1527R1, J30R6, R9, and R11 specifications, and the International Marine Certification Institute's Recreational Craft Directive 94/25/EC."
EH049 ESP tubing and EH089 ESP hose are suitable for virtually any tank-to-engine application on marine or turf equipment with an operating temperature range of -25°F to +150°F (-32°C to +66°C). Both are available in cut lengths, coils, reels, and custom colors.
EH089 ESP hose has a working pressure of 250 psi and is available in three standard sizes:
Part No     ID mm (inch)     OD mm (inch) EH89-04      6.4 (¨ù)          12.7 (¨ö) EH89-05      7.9 (5/16)       14.1 (.555) EH89-06      9.5 (3/8)        15.9 (5/8)
EH049 ESP tubing has a working pressure of 50 psi and is available in three standard sizes:
Part No     ID mm (inch)     OD mm (inch) EH49-04      6.4 (¨ù)          9.5 (3/8) EH49-05      7.9 (5/16)      11.1 (7/16) EH49-06      9.5 (3/8)       12.7 (¨ö)