Press Release Summary: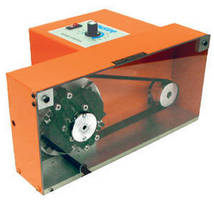 February 7, 2013 -
Original Press Release
Do You Have Tough Material to Cut? Try the RTC1 Rigid Tubing Cutter from The Eraser Company!
Press release date: February 6, 2013
RTC1 Rigid Tube Cutter
Do you have tough material to cut? Try the RTC1 Rigid Tubing cutter from The Eraser Company!
Model RTC1 Manual Feed Rigid Tubing Cutter is capable of processing copper, aluminum and mild steel. Model RTC1 has an unlimited cut length, is easy to use and offers production flexibility. This is the perfect tool for rigid tube cutting!
Material Size: 1/8"ID to 7/16" O.D.
Cut Length: 2.00" to Unlimited
Blades: Double Beveled Tool Steel
Power: 120V or 230V
Size: 14.5"W x 11.5"D x 7.5"H
See the RTC1 in action: YouTube!
Visit Eraser to see the MMC200 operating manual and other cutting machines.
About The Eraser Company, Inc.
The Eraser Company, Inc., celebrating over 100 years in business, manufactures a wide range of machinery that enables customers to manufacture, prepare, and process, wire, cable, and tubing products more efficiently, effectively, and profitably. The company is ISO 9001 Certified, and their products can be found worldwide.For more information on Eraser's entire product line visit
www.eraser.com
or call 315-454-3237.
The Eraser Company, Inc.
Contact: Alina Osbahr
Marketing Coordinator
Phone: Toll Free: (800)724-0594
or 315-454-3237
Fax: 315-454-3090
Email: aosbahr@eraser.com