Press Release Summary: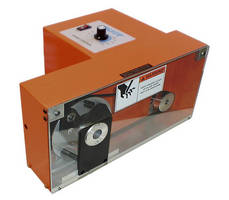 April 25, 2014 -
The Eraser Company, Inc. - Syracuse, NY
Original Press Release
Cut Through a Variety of Material Types with Eraser's Tubing Cutters
Press release date: April 24, 2014
The Eraser Company offers a wide range of tubing cutters, including the FTC1, LFTC1 and RTC1 Tubing Cutters. These manual feed machines feature a foot-pedal activated cutter head to slice through a variety of material types.  Model FTC1 is a Flexible Tubing Cutter capable of processing material such as PVC, nylon, rubber, vinyl and many others.  Material size can range from less than 1/4" up to  1 1/8" in diameter, depending on the material.
For a larger material size, the LFTC1 Large Flexible Tubing Cutter can cut through material up to 2" in diameter.  Model RTC1 is a Rigid Tubing Cutter capable of cutting material such as copper, brass, aluminum and some mild steel ranging in size from 1/8" inner diameter to 7/16" outer diameter. These easy to use machines can achieve a minimum cut length of 2" and an unlimited maximum cut length. The convenient length stop rod allows for accurate and repeatable cut lengths. Custom bushings are required to hold material securely in place. Use the Eraser Certification Program to send in sample material and let our technical experts determine the correct bushing size for your application. See Eraser's Tubing Cutters in action on YouTube!  For more information, contact Eraser at (800)724-0594,
info@eraser.com
, or visit
www.eraser.com
.
About The Eraser Company, Inc.
The Eraser Company, Inc., celebrating over 100 years in business, manufactures a wide range of machinery that enables customers to manufacture, prepare, and process, wire, cable, and tubing products more efficiently, effectively, and profitably. The company is ISO 9001:2008 Certified, and their products can be found worldwide. For more information on Eraser's entire product line visit
www.eraser.com
or call (800)724-0594.
The Eraser Company, Inc.
Contact:
Amanda Stone
Marketing Coordinator
Phone: Toll Free: (800)724-0594
or 315-454-3237
Fax: 315-454-3090
Email:
astone@eraser.com