New Weld-Environment Sensor Cables from Pepperl+Fuchs Increase Productivity and Reduce Downtime in Weld Cell Applications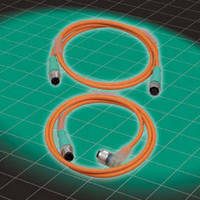 New Weld-Environment Sensor Cables from Pepperl+Fuchs Increase Productivity and Reduce Downtime in Weld Cell Applications
Click Here to Enlarge Picture


(Archive News Story - Products mentioned in this Archive News Story may or may not be available from the manufacturer.)

Pepperl + Fuchs, Inc.
1600 Enterprise Parkway
Twinsburg, OH, 44087 2245
USA




Press release date: October 28, 2011

Extremely robust and flame retardant cables designed to survive in harsh automotive manufacturing environments

TWINSBURG, OH - Pepperl+Fuchs introduces Weld Slag Resistant POC Cables. Weld slag resistant cables are extremely robust and flame retardant, providing long life and reliable operation in high temperature welding applications. The temperature resistance cable jacket can withstand up to 150 degrees C and the flexible structure withstands high levels of mechanical stress, making POC cables ideal solution for use in weld cell locations in automotive industry applications.

"Weld slag and the effects of molten metal flash from welding operations can quickly damage standard sensor cables leading to shorter service life and reduced productivity. Our new weld slag resistant cables use a cable jacket material, which enables them to deflect the punishment handed out in harsh welding applications. As a result users will benefit from long, problem-free service life and reduced downtime," says Dave Rubinski, Product Manager.

Pepperl+Fuchs is a world leader in the design, manufacture and application of high quality factory and process automation products and services. Pepperl+Fuchs pioneered the development of proximity sensors 50 years ago, and has set the standard for innovation and quality ever since.

Pepperl+Fuchs, 1600 Enterprise Parkway, Twinsburg, OH 44087; (330) 486-0001; fax: (330) 405-4710; fa-info@us.pepperl-fuchs.com; pepperl-fuchs.us.

For Lead processing: Email or send all leads to: tmaley@us.pepperl-fuchs.com; Pepperl+Fuchs, 1600 Enterprise Parkway, Twinsburg, OH 44087, Attn: Tonya Maley. Please identify leads with item code PFA679 for fastest lead processing.
---