Flomatic Corporation
15 Pruyn's Island Dr., Glens Falls, NY, 12801, USA
Latest New Product News from
Flomatic Corporation
Fluid & Gas Flow Equipment
May 16, 2017
Offering horizontal or vertical piping installations and noiseless operation, Tapped Valve with tappings of 1/8 in. and 1/4 in. have low head loss. Unit's internal parts are made of corrosion-resistant materials. Featuring extra-large bosses, product is available in A, B, and C models that allow easy connection of pressure switch and pressure gauges.
Read More
Fluid & Gas Flow Equipment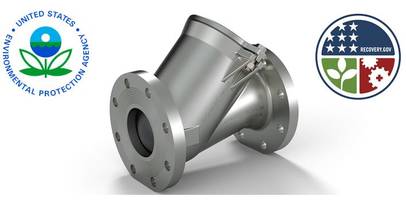 April 10, 2017
Featuring 316 stainless steel body and access port, Model 408S6 Ball Check Valves are available in 4 in. size. Suitable for wastewater and storm water pumping applications, valves are designed according to AWWA standard C508 check valve flanged to flanged lay lengths.
Read More
Fluid & Gas Flow Equipment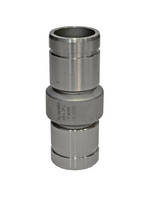 November 9, 2016
Featuring Certa-Lok® lock type pipe connections made with 316 Stainless Steel body, 80S6CL-VFD Valve supports deep set pumps. 80S6CL-VFD valve minimize flow losses and hydraulic shocks in pumping systems. Provided with automatic adjusting system, valve ensures adjustment of flow rates from high to very low. Valve seat is designed to provide self-cleaning "one point swiping action" by the... Read More
Fluid & Gas Flow Equipment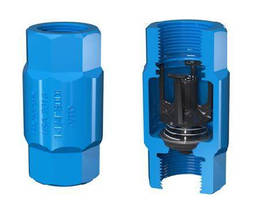 October 11, 2016
Designed to minimize flow losses and hydraulic shocks in pumping system, 1 in. and 1 ¼ in. Model 80DI VFD features ductile iron body with standard epoxy coating to support deep set pumps. Stainless steel guided poppet system ensures that valve automatically adjusts noiselessly from high to very low flow rates. Radiuses of valve seat allow self-cleaning one point swiping action by radius-edged... Read More
Fluid & Gas Flow Equipment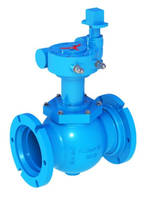 August 17, 2016
Designed in compliance with ANSI/AWWA C517-09, Model 54-4MJ Flo-E-Centric® round-port eccentric plug valves feature Mechanical Joint (MJ) connections that meet ANSI/AWWA C111/A21.11 requirements. Products are available from 6–24 in. with standard gear box with 2 in. operating nut for buried service; body, bonnet, and plug (NBR encapsulated) are constructed of ASTM A536 grade... Read More
Fluid & Gas Flow Equipment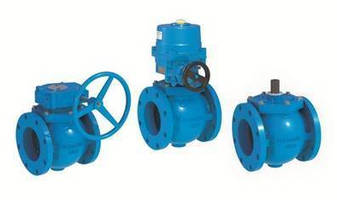 April 14, 2016
Designed in compliance with ANSI/AWWA C517-09, Model 5400 Flo-E-Centric® plug valves feature bodies, bonnets, and plugs (NBR encapsulated) constructed of ASTM A536 grade 65-45-12 ductile iron. All fasteners and washers are stainless steel, and flanges are rated ANSI class 150#. Designed primarily for water and wastewater markets, products are also suited for handling various liquids,... Read More
Chemicals & Chemical Processing, Fluid & Gas Flow Equipment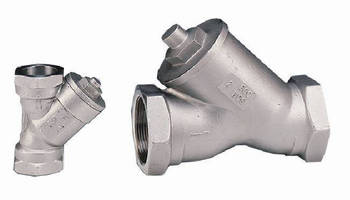 February 25, 2016
Model 816 and 816FL Ward check valves and Model 16 and 16FL Ward strainers are available in ¼–2 in. threaded and 1–2 in. ANSI 150 Class Flanged configurations. Construction can be of ASTM 316 stainless steel or other materials, such as WCB Steel, Alloy 20, Monel, or Hastelloy C. Valve features Sealing System with sealing plunger that features angled elastomer disk totally... Read More
Fluid & Gas Flow Equipment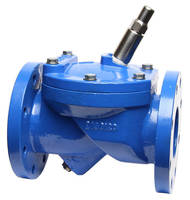 October 19, 2015
Model 745ASC Rubber Flapper Swing Check valve with adjustable spring closure (ASC) has epoxy-coated ductile iron body with encapsulated valve disc that is custom-molded Buna-N and comes in 3–14 in. sizes. Spring-assisted closure offers accelerated response with short stroke of 45°, and use of field-adjustable spring avoids slamming while simultaneously allowing valve disc to be stabilized... Read More
Other Company News from
Flomatic Corporation