For advertising information Click Here

Increase Awareness of Your Company Name, Your Brand...

Position your company as a leader in your field through innovative Internet marketing options, including category sponsorships, category-featured company ads and full-story display ads. ThomasNet News®, news.thomasnet.com, delivers news daily to hundreds of online news sites, portals, and through targeted e-mail marketing.

Reach Industrial Decision-Makers All Over the Internet

ThomasNet News® is updated and syndicated daily to hundreds of online news sites and portals. Sites delivering news from ThomasNet News® include:
Google News
Yahoo News
MSN News
LexisNexis
AltaVista News
IEN Online
ThomasNet.com
What is ThomasNet News®?
ThomasNet News® is the largest publisher of industrial product news on the Internet. We deliver more new industrial product news than many of the newswires combined.

Our news is delivered daily and leads in both quantity and quality. Every press release we receive is reviewed by our editors to ensure that it is truly news. Each release that is accepted is turned into a concise, factual, news summary that is easy to read and delivered on a timely basis. We cover the broad industrial marketplace delivering the latest news to the industrial community.

Who Uses Us?

New product news stories have always been essential information. Whether consumer or business-to-business, these stories are among the most highly read for most publications because that is what readers want to read.

Research and experience show that decision-makers in business look for information on new product developments specific to their industry. Executives, engineers, purchasing managers and sales and marketing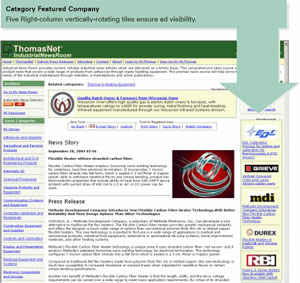 professionals read new product news stories for:
ideas for rapid design and development,
improving the manufacturing process,
quick and informed decisions critical to their corporate objectives,
support of sourcing and procurement choices,
staying abreast of technological changes, and
competitive intelligence to protect their own market share.
Today, ThomasNet News® averages over 1,000,000 visits per month; more than the traffic of most leading industry magazine websites.

We deliver your message to the market and the market to you.
The Internet is the resource for researching products and services.

ThomasNet News® Reach

Launched in November 2003, ThomasNet News® is a destination Website where the industrial marketplace comes to find out what's new in industrial products. Each day, ThomasNet News® provides timely, current, and reliable news on new industrial products.

We also deliver new product news directly to the desktop of the industrial decision-makers through product news e-Alert newsletters and Really Simple Syndication (RSS) news feeds. Every day, ThomasNet News® delivers new product news to the industrial decision-makers-what they want, when they want it, and in the way that they want it. Our users choose the news categories of interest, the frequency, and the format that meets their needs.

Combined, ThomasNet News®, e-Alerts and RSS news feed receive over 1,000,000 visits per month from the industrial marketplace. 61% of our traffic comes from the U.S. and 39% is international.*

Whether it's e-mail or RSS, our news and your ads are delivered directly to the decision-maker.

ThomasNet News® Site Profile

This mission critical information is delivered in fifty vertical market categories creating the perfect opportunity to deliver a targeted, relevant message on your products and services.