Thomas' Tony Uphoff Attends Manufacturing Roundtable at White House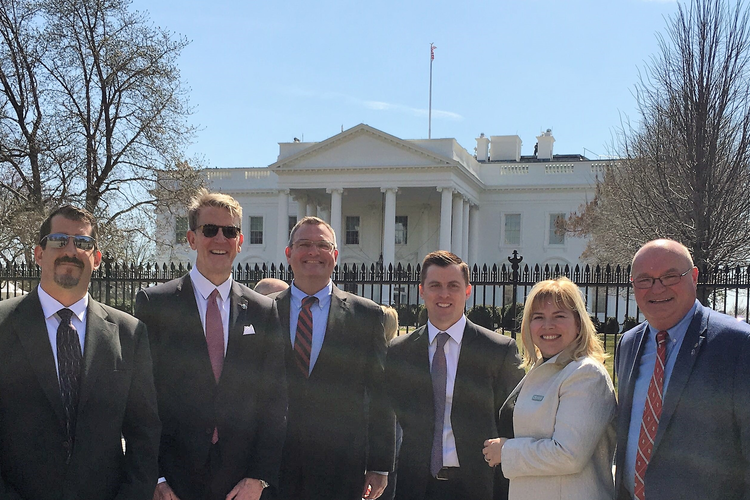 On Thursday, March 14, the White House hosted a manufacturing roundtable, bringing together industrial business leaders and government officials to discuss the issues facing the U.S. manufacturing and industrial sector. Tony Uphoff, president and CEO of Thomas, was invited to speak at the event.
Founded in 1898, Thomas has supported industry for more than 120 years, giving the company unique insight into how manufacturing and industry have changed throughout the years, as well as the challenges that lie ahead.
Highlighting the Challenges Facing Industry
Uphoff started the discussion by providing an overview of the sustained growth in the U.S. manufacturing industry, while also touching upon the four main obstacles currently facing industry:
The public's misconception of the state of U.S. manufacturing
The digital revolution shaking up industry and the impact that disruptive technologies have on industrial marketing, supply chains, and sales
International trade trends
Workforce-related issues, including the widening skills gap and the interpersonal complexities inherent in today's multigenerational workforce
"This was a great opportunity to share what our data shows on manufacturing and industrial trends with senior government leaders and to illuminate some of the key challenges our industry is working to overcome," said Uphoff.
"These types of discussions go a long way toward shaping America's perception of manufacturing," he said. "They provide real examples and identify what is being done by leading U.S. manufacturers to continue the growth in this sector."
Industry and Government Leaders in Attendance
Organized by the Department of Commerce International Trade Administration (ITA) and the Small Business Administration (SBA), the roundtable featured several government officials, including U.S. Department of Commerce International Trade Administration Director Anne Evans, SBA Regional Administrators Wendell Davis and Steve Bulger, U.S. Department of Commerce ITA Deputy Assistant Secretary for Manufacturing Ian Steff, Congressman Lee Zeldin (R-NY), and representatives from Co-Chair of the House Manufacturing Caucus Congressman Tom Reed (R-NY).
Additionally, several industry leaders were in attendance: Karen Norheim, executive vice president of American Crane & Equipment Corp.; Ken Carlton, executive vice president of Corrugated Metals; Eoin Lynch, executive director of sales and marketing at Tex Tech Industries; Sean Duclos, president of Millennium Precision LLC; Brett N. Silvers, president and CEO of WorldBusiness Capital, Inc; and Jeff White, partner at Robinson & Cole.
Supporting Industry and Manufacturing
"Thomas is thrilled to have the opportunity to work with the Department of Commerce International Trade Administration to advance the dialogue and action on these important issues," Uphoff said.
"Many of the suppliers we're proud to list as Thomas customers have expressed that they would like to expand their businesses on a global scale; in addition to the solutions we offer to help those businesses grow, Thomas will continue to work closely with the Department to promote their export trade programs and provide opportunity for all American manufacturers."
Related