Wireless Bonded LEDs come in 3, 6, and 9 W models.
Press Release Summary: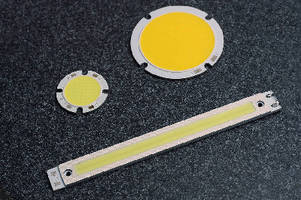 Offering shock and vibration resistance as well as optimized heat dissipation, TitanBrite Wireless Bonded LEDs are flip chip LEDs that directly emit light from top and side with no wire bond casting shadows or creating uneven light distribution. RoHS-compliant units are available in light bar modules and round modules, both in cool white and warm white colors as standard. Blue is available for custom products. Typical applications include automotive, appliances, industrial control, and signage.
---
Original Press Release:

New Lumex TitanBrite Wireless Bonded LED Provides Brightest Output in Industry



Flip Chip LED is up to 15% Brighter, 5x Stronger, and 25% Cooler than Alternative Technologies



CAROL STREAM, IL – Lumex announces the global launch of its TitanBrite Wireless Bonded LED featuring "flip chips" that are up to 15% brighter than any others in the market. In addition to the standard 3W and 6W LEDs, Lumex's TitanBrite Wireless Bonded LED is also available in 9W, ensuring Lumex's wireless bonded LED is the brightest light source in the industry.



Wireless bonded LED technology, often referred to as "flip chip", offers several key performance benefits over traditional SMT (Surface Mount Technology) LEDs including enhanced durability, enhanced heat dissipation and superior light performance. Applications for the TitanBrite Wireless Bonded LED include:

• Automotive – daylight, running light, dome light, foot well and floorboard runner lighting

• Appliance – cabinet lighting, accent lighting, backlighting

• Industrial control – donut lighting, warning indicators, inspection lighting

• Medical – surgical lights, examination lights, oral surgery lighting

• Signage – channel lighting, backlighting, warning and hazard lights

• Construction – warning lights, light towers, traffic lights

• Military – heavy equipment, construction and transportation lights



Enhanced Durability

The enhanced shock and vibration resistance of wireless bonded LEDs compared to traditional LEDs stems from its more durable design. Due to the absence of a wire bond and a hard epoxy layer, the wireless bonded LEDs are five times stronger and more robustly designed than standard, high power LEDs.



Enhanced Heat Dissipation

Wireless bonded LEDs offer superior heat dissipation and are more adverse to shock and vibration than traditional high power LEDs. They can withstand higher temperatures without compromising performance and have a greater surface area for heat dissipation, making them more efficient at removing heat. Due to the placement of junction pads on the bottom of the flip chip, heat can be transported faster than with a regular high power LED, keeping this technology 25% cooler than traditional high power wire bond technologies.



Superior Light Performance

Wireless bonded LEDs provide superior light performance when compared with traditional LED technology. Higher light output is achieved in a more compact space and the light performance is not disrupted by shadows or other obstacles to consistent performance. With wireless bonded technology the chip can directly emit light from the top and the side with no wire bond casting shadows or creating uneven light distribution, providing 15% more light output.



Design options:

Lumex's TitanBrite Wireless Bonded LEDs are the only flip chip LEDs on the market available in both standard and custom colors and shapes. Standard shapes are circular and rectangular. Lumex can also design custom shapes such as octagons and triangles in order to fit any application. Standard colors include warm white and cool white and blue is available for custom products.



The RoHS compliant TitanBrite Wireless Bonded LEDs are available in 3W wireless bond light bar modules (cool white and warm white) and 6W wireless bond round modules (cool white and warm white) in addition to custom colors (including blue) and sizes for 3W, 6W and 9W. Pricing ranges from $6-$10 per unit. Lead times range from 8 to 10 weeks.



Lumex Contact Information

For additional information or engineering assistance:

In North America and Europe, contact Lumex's Sales Department, 425 N. Gary Avenue, Carol Stream, IL  60188  USA.  Phone:  1-800-278-5666.  E-mail:  lmxsales@lumex.com  Web:  www.lumex.com. 



In Asia, contact Lumex's Asian Pacific Headquarters at 3F, No. 972, Sec. 4, Chung Hsing Rd., Chu Dung, Hsin Chu County, Taiwan, ROC.  Phone: +886-3-582-1124.  FAX:  +886-3-582-1154. Web (in Chinese):  www.lumex.com.tw



About Lumex

For over 30 years, Lumex, a member of the ITW Photonics Group, has been a global leader in the optoelectronics industry. With the broadest range of high efficiency, high performance LEDs and LCDs in the industry, Lumex provides thousands of standard products and specializes in semi-custom and custom designs.  Lumex's optical range encompasses a wide spectrum including UV, visible and infrared wavelengths. Lumex's team of Technical Design Specialists are experts in collaboratively developing effective, smart solutions from the most complex design dilemmas.



Lumex has a global footprint with the worldwide headquarters outside Chicago and the Asian headquarters in Taiwan. With manufacturing capabilities in the United States, China, Taiwan and Thailand, Lumex is able to support over 23 end markets with more than 80,000 customers both directly and through our distribution channel partners. Lumex received its initial ISO 9001 registration in 1996.



About the ITW Photonics Group

The ITW Photonics Group was created to bring together and build on the technical expertise of individual companies that specialize in photonics technology and span the full spectrum of wavelengths.  The group consists of:

• Lumex - LED and LCD technology

• Cal Sensors - IR Detector and Emitter technology

• Opto Diode Corp - LED, Silicon Photodiodes and Electro-Optical Assembly technology

• ITW Linx – Surge protection technology



The synergy of these industry front-runners provides an unsurpassed range of photonic capabilities within a broad spectrum of markets, including medical, military and industrial controls.  The ITW Photonics Group provides integrated solutions that encompass the technology and experience from all three business units, offering design engineers higher performance with greater feature enhancements. For more information on the ITW Photonics Group, go to www.itwphotonicsgroup.com

More from Architectural & Civil Engineering Products