White LED can be overdriven up to 30 or 60 mA.
Press Release Summary: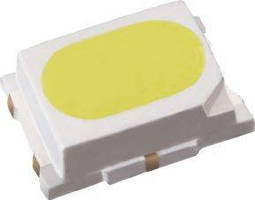 Featuring lead frame technology with heat slug for heat dissipation, 0.2 W Series 45-21S is suitable for LED light tubes in general lighting applications. Top-view LED provides typical light output of 20 lm in warm white and 22 lm in cool white at 60 mA and achieves luminous output of 26-41 lm at 75 mA. Measuring 3.0 x 2.0 x 0.8 mm, RoHS-compliant device has CRI of greater than 80 Ra and comes in ANSI correlated color temperatures from 2,700–6,500 K.
---
Original Press Release:

Everlight Offers Low-Power LED with Overdrive Capabilities for Brighter LED Light Tubes



Shulin, New Taipei City -- EVERLIGHT ELECTRONICS CO., LTD. [TSE:2393], a leading player in the global LED industry with three decades of experience in optoelectronics, expands its broad product range of low-power LEDs with a 0.2W top-view white LED featuring a lead frame technology with heat slug for good heat dissipation. The new 45-21S series is especially suitable for LED light tubes in general lighting.



Everlight's 45-21S series is an upgrade from standard 3020 packages. With efficient thermal dissipation, this compact (3.0x2.0x0.8mm LxWxH) white LED can be overdriven up to 30mA or 60mA while maintaining high efficiency (115lm/W for the cool white and >104lm/W for the warm white versions), and cost effectiveness. These superior product characteristics turn the 45-21S LED into a real cost and energy saver and is a top solution for most general lighting applications, but especially for light bars or panel lights that need more brightness or require fewer LEDs.



Traditionally, light bar applications have been utilizing small 20mA PLCC packages that enable high lumen density and uniformity to emulate the appearance of fluorescent tubes. As the required specifications for fixtures in that market improved, light tube manufacturers are looking for ways to increase the brightness of their fixture without changing the board layout or any part of the mechanical design. The best way to do this is to use an LED that can be overdriven. Another reason for higher brightness PLCC packages are the efforts of some manufacturers to maintain minimum system brightness while decreasing the number of LEDs used. Thus, LEDs that can be overdriven make the entire tube more cost effective.



The Everlight 45-21S series has a CRI of >80Ra and is offered with ANSI CCTs ratings from 2700K to 6500K. This low-power LED provides a typical light output of 20lm (ww) and 22 lm (cw) at 60mA and achieves a very high luminous output of 26-41lm@75mA. The 45-21S package is Pb-free and RoHS compliant.



Sample Available: Yes. (Upon request)

Mass Production: Now



More information or data sheet for this product upon request: Please contact your local Everlight sales office. Local sales information: www.everlight.com.



The Right LED for the Right Application

A dedicated application-based marketing approach supports the idea that every application is to be paired with "The Right LED" to provide the best performance and quality. Every package design presents its own advantages in certain applications.



Everlight is fostering close relationships between their R&D, Sales and Marketing teams to meet and exceed their customers' expectations in both product offering and technology. Everlight a great variety of customers with total solutions for their different applications and is incessantly committed to satisfy the strongly growing global market for LED solutions.



About EVERLIGHT Electronics Co. Ltd.

EVERLIGHT Electronics Co., Ltd. was founded in 1983 in Taipei, Taiwan. Playing a critical role in the formation of the global LED industry, the company is rapidly ascending to become a leading supplier due to its dedication to certification, R&D, production, quality, marketing and global customer service. EVERLIGHT provides a diverse product portfolio consisting of high power LEDs, lamps, SMD LEDs, LED lighting modules, digital displays, optocouplers and infrared components for various applications. Today, EVERLIGHT is a global company with over 6,400 employees based in China, Hong Kong, Japan, Korea, Singapore, Malaysia, Germany, Sweden, U.S., and Canada.



Please visit us at www.everlight.com

PR contact: pr@everlight.com

More from Laboratory and Research Supplies and Equipment