Ta2N Thin Film Chip Resistors feature R level failure rate.
Press Release Summary: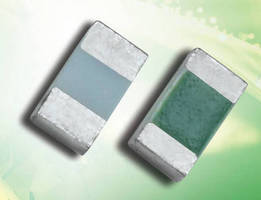 Offering tolerances to 0.1% and TCR of 25 ppm/°C, Vishay Dale QPL E/H Tantalum Nitride (Ta
2
N) Thin Film surface-mount chip resistors provide reliability with R level failure rate of 0.01% per 1,000 hr. Moisture resistance level exceeds MIL-PRF-55342 limits by factor of 50, accommodating use in military and aerospace applications. Offered in 12 case sizes, resistors feature 50–1,000 mW power ratings, 30–200 V working voltages, and 49.9 Ω to 3.3 MΩ resistance range.
---
Original Press Release:

Vishay Launches New QPL Tantalum Nitride Thin Film Chip Resistors With 'R' Level Failure Rate



MIL-PRF-55342-Qualified Devices Offer Exceptional Moisture Resistance for Military and Aerospace Applications



MALVERN, Pa. – Vishay Intertechnology, Inc. (NYSE: VSH) today launched a new series of QPL MIL-PRF-55342-qualified surface-mount chip resistors that provides established reliability with an "R" level failure rate of 0.01 % per 1,000 hours. Built using a moisture-resistant tantalum nitride resistive film technology, the new E/H (Ta2N) resistors offer enhanced specifications for military and aerospace applications, including tolerances to 0.1 % and TCR of 25 ppm/°C.



The Vishay Dale Thin Film QPL resistors introduced today are intended for use in control systems for military and aerospace applications where moisture during operation or long-term storage may be a concern. The devices' tantalum nitride resistive film assures a moisture resistance level that exceeds MIL-PRF-55342 limits by a factor of 50.



The E/H (Ta2N) thin film resistors offer very low noise of less than -25 dB and a low voltage coefficient of 0.5 ppm/V. Their wraparound terminations feature a tenacious adhesion layer covered with an electroplated nickel barrier layer for +150 °C operating conditions, while contributing resistance of less than 0.010 Ω typical.



The devices are offered in 12 case sizes from M55342/01 to M55342/12, with power ratings from 50 mW to 1000 mW, working voltages from 30 V to 200 V, and resistance ranges from 49.9 Ω to 3.3 MΩ, depending on tolerance.



Production quantities of the E/H (Ta2N) thin film resistors are available now, with lead times of eight to 10 weeks.



Vishay Intertechnology, Inc., a Fortune 1000 Company listed on the NYSE (VSH), is one of the world's largest manufacturers of discrete semiconductors (diodes, MOSFETs, and infrared optoelectronics) and passive electronic components (resistors, inductors, and capacitors). These components are used in virtually all types of electronic devices and equipment, in the industrial, computing, automotive, consumer, telecommunications, military, aerospace, power supplies, and medical markets. Vishay's product innovations, successful acquisition strategy, and "one-stop shop" service have made it a global industry leader. Vishay can be found on the Internet at www.vishay.com.



http://twitter.com/vishayindust

http://www.facebook.com/VishayIntertechnology





Vishay Contact:

Andrew Post

Senior Manager

Global Communications

Vishay Intertechnology, Inc.

Telephone: 1 610 251-5287

Fax: 1 610 889-9429

Email: andrew.post@vishay.com