SWIR Camera suits industrial and scientific vision applications.
Press Release Summary: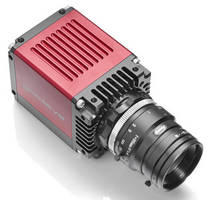 With VGA resolution (636 x 508 pixels with 25 µm² pixel pitch) InGaAs sensor and 900–1,700 nm sensitivity, 55 x 55 x 78 mm Goldeye is completely industry compatible. Active cooling module (Thermo-Electric Cooling) reduces dark current and consequent noise in images, while image optimization algorithms correct defect pixels or InGaAs-inherent non-uniformity within camera. Other features include Gigabit Ethernet interface, PoE support, several I/O options, and -20 to +50°C operating range.
---
Original Press Release:

Industrial Design, Scientific Precision



Allied Vision Technologies' new Goldeye infrared camera delivers best-in-class infrared images while being totally industry-compatible. This makes it the new benchmark for demanding imaging applications.



Stadtroda – The new generation of Allied Vision Technologies' Goldeye infrared camera series is now shipping. The new Goldeye is a completely new development that sets a new benchmark in the short-wave infrared (SWIR) camera market.



Short-Wave Infrared Sensitivity With InGaAs Sensor

Like its predecessor, the all-new Goldeye is a SWIR camera. With its InGaAs sensor, its sensitivity ranges from 900 to 1,700 nm. This makes the new Goldeye a perfect choice for demanding industrial and scientific vision applications beyond the visible spectrum – for example quality inspection in the photovoltaic or semiconductor industries and multispectral imaging.



The Goldeye is fitted with an active cooling module (Thermo-Electric Cooling). Cooling the sensor by up to 30K reduces dark current and hence the noise in the images. Sophisticated image optimization algorithms correct defect pixels or InGaAs-inherent non-uniformity within the camera. Along with the sensor cooling, this ensures the new Goldeye delivers an outstanding image quality to the image-processing application. With further features such as exposure settings, analog and digital gain as well as Lookup Tables for enhanced contrast, users can adapt the image settings to their own personal needs.



Compact Housing and Industrial Design

Infrared cameras are often designed primarily for scientific imaging and are not always perfectly suited for industrial use. As a machine vision camera specialist, Allied Vision Technologies designed the new Goldeye for optimal industrial compatibility.



The sensor cooling system is fan-less and fully integrated into the housing. This makes the new Goldeye an extremely compact camera. With measurements of 55 x 55 x 78 mm, it is the smallest SWIR camera with Gigabit Ethernet interface in the market. The interface complies with the GigE Vision standard for industrial image-processing and supports Power over Ethernet. One cable is enough to power the camera and transmit image data over up to 100 meters.



The new Goldeye can sustain harsh operating conditions. The rugged housing supports an extended temperature range from -20°C to +50°C. It also features fitting screw threads on all sides but the rear to easily and securely mount the camera into an automated system. System integration is also made easier by the multiple trigger and synchronization possibilities given by the I/O port (2 in / 3 out) and the RS232 interface.



Thanks to its modular design, the new Goldeye is available with C-mount, F-mount or M42-mount. Allied Vision Technologies' experts can provide valuable advice in choosing the appropriate optics.



More models to come

At market introduction, the new Goldeye is fitted with a high-sensitivity InGaAs sensor in VGA resolution (636 x 508 pixels with 25µm² pixel pitch). The Goldeye G-032 SWIR TEC1 delivers up to 100 fps at full resolution with 14 bit A/D resolution. More sensors and models will be added to the Goldeye camera family in the coming months.



About Allied Vision Technologies

Founded in 1989, Allied Vision Technologies GmbH of Germany designs, produces and sells cameras and components for image processing in industrial and life science applications such as industrial automation, medical imaging, traffic monitoring, etc. With innovative products, superior manufacturing quality and a service-driven organization, Allied Vision Technologies is well established as a premier provider of digital camera solutions for machine vision worldwide. Allied Vision Technologies owns subsidiaries in Germany, the USA, Canada, Singapore and China and is represented by distribution partners in more than 30 countries. www.alliedvisiontec.com



Contact (Headquarters):

Allied Vision Technologies GmbH | Taschenweg 2a | 07646 Stadtroda, Germany

Tel.: +49 36428/677-0 | Fax: +49 36428/677-24 | info@alliedvisiontec.com | www.alliedvisiontec.com

More from Electrical Equipment & Systems