Ruggedized Bar Code Scanner withstands extreme conditions.
Press Release Summary: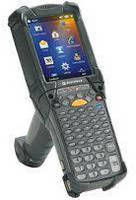 Employing omnidirectional scanner capable of capturing barcode data from up to 30 ft away, MC9190-G incorporates mobile operating system, microprocessor, memory, and multiple connectivity options. Integrated 2D imager engine can read multiple barcode types, including those that are damaged or dirty. While backlit display facilitates viewing, display's flexible, sturdy glass tolerates drops, scratches, spills, and bumps. Customizable density and DPM options are available.
---
Original Press Release:

High Performance Bar Code Scanner Withstands Extreme Conditions



Pittsford, NY, USA. In response to marketplace needs, L-Tron Corporation, teamed with Motorola Solutions, presents a cutting-edge data collection device built for reliability and durability within the harshest surroundings. While operating the MC9190-G bar code scanner, weather factors become irrelevant, due to the device's outstanding endurance of extreme temperatures, rain drops, and dust. Distance and lighting concerns are no longer problematic, as the omnidirectional scanner can effectively capture bar code data from up to 30 feet away and poor lighting is combated with an easy-to-view backlight display. Furthermore, the MC9190-G's design features flexible, sturdy glass able to easily tolerate various human mishaps, such as drops, scratches, spills and bumps.

The technical capabilities of the MC9190-G are equally as impressive as its ruggedized design, as the scanner incorporates an advanced mobile operating system, a powerful microprocessor, exceptional memory abilities and multiple connectivity options. Featuring a 2D imager engine, the MC9190-G can easily scan all types of bar codes the first time, including bar codes that are damaged or dirty.

As a customer-centered company, L-Tron focuses on providing quality solutions that can be tailored to fit the unique requirements of their customers. The MC9190-G imager offers customizable density and DPM options, plus the imager may vary based upon the anticipated scanning distance and lighting conditions of a customer's application. Additionally, owners of previous models in the MC9000 line can cost-effectively upgrade to the MC9190-G, as all of the older accessories are compatible with the new model. Delivering improved accuracy and resiliency, the MC9190-G contributes to greater productivity on the workforce and is an ideal solution for demanding data collection tasks.

About L-Tron Corporation:
L-Tron Corporation is a leading supplier of bar code products, data collection products and industrial computers. Founded in 1978, L-Tron is a value added reseller, specializing in quality solutions to meet the unique data collection requirements for every business owner. L-Tron's numerous solutions include bar code readers, bar code scanners, rugged mobile computers and printing solutions. L-Tron Corporation welcomes the opportunity to work with large and small businesses to efficiently provide solutions and support specific application requirements.

L-Tron currently carries the MC9190-G, as well as additional Motorola product lines. For detailed specifications, technical assistance, and/or additional information, please contact L-Tron Corporation (toll free in the US) 800.830.9523, via email:Sales@L-Tron.com, or visit www.L-Tron.com.

Contact Information:
Phone: 585.383.0050
FAX: 585.383.0701
Email: Sales@L-Tron.com
WEB: http// www.L-Tron.com

More from Agricultural & Farming Products