Network Security Gateway accommodates SMBs and large enterprises.
Press Release Summary: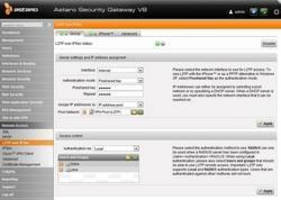 Unified Threat Management (UTM) solution, Astaro Security Gateway v8, has user interface that facilitates management tasks with features such as search function that automatically brings up all menu items related to administrator query. In addition to multi-role administration with specifiable access permissions, platform offers configuration change auditing, IPv6 support, and VPN activity reporting. Users may also choose to block communications with specified countries/regions.
---
Original Press Release:

Astaro Releases Astaro Security Gateway Version 8



Unified Threat Management evolves to meet requirements of enterprises as well as SMB

Version 8 of the Astaro Security Gateway is the new platform that lays the foundation for further innovations made by Astaro WILMINGTON, MA

Astaro, a leading Unified Threat Management vendor, today announced the release of the Astaro Security Gateway Version 8. This major release comes with several new features and general improvements, providing SMB as well as enterprises with comprehensive protection. Although Unified Threat Management has been the option of choice for the SMB sector for some time, Astaro's partners have observed an increasing demand from enterprises for integrated security solutions.

The latest version of Astaro's flagship solution comes with a host of new features, including:

Multi-role Administration - Specify access permissions for different administrators.

Configuration Change Auditing - See what settings were altered in the configuration and by whom.

IPv6 Support - Accommodates the next iteration in IP addressing.

Printable Configuration - Save a copy of configurations for auditing or compliance reasons.

VPN Activity Reporting - Displays the status and historical activity of your remote workers.

Country Blocking - Disallow all communications with specified countries or regions.
The security challenges for organizations are evolving rapidly. As companies grow and add new offices at remote locations, creating a greater need for multifunction firewalls, both in the SMBs and enterprises.

"Like SMBs, enterprises search for a security solution that saves time and money and they like the idea of integrated functionality," said Gert Hansen, Vice President Product Management at Astaro. "But most UTM solutions lack functionality that is essential for the enterprise segment, like in the areas of revision and compliance. The new version 8 of the Astaro Security Gateway addresses these needs."

The new features of the Astaro Security Gateway V8 appeal to both the enterprise and SMBs. For example, companies can now track all network activities from users logged in from remote locations and completely block Internet traffic from selected countries. Additionally, the user interface of the Astaro Security Gateway has been revised in order to further simplify management tasks. These changes include the introduction of a search function which automatically brings up all menu items related to the administrator's query.

"Version 8 of the Astaro Security Gateway is the new platform that lays the foundation for further innovations made by Astaro," Hansen continues. "It is a major step for us and our customers, offering the basis for many new developments that are yet to come. The next big news will be the release of a new subscription called 'Astaro Web Application Security' later this month."

About Astaro Astaro offers the most complete and easy to use Internet security appliances available. Astaro's award-winning products provide the latest protection with the best total cost of ownership. Software, hardware and virtual appliance offerings provide users the flexibility to meet a wide variety of deployment scenarios. Distributed by a growing worldwide network of more than 2,500 resellers, Astaro products protect over 100,000 networks across 60 countries. Astaro, headquartered in Wilmington, Massachusetts, USA and Karlsruhe, Germany, offers free downloads of its products at www.astaro.com.


Related