NAS Storage Products include 6 TB, 5-platter HDDs.
Press Release Summary: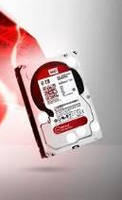 Intended for SOHO NAS (network attached storage) systems, WD® Red® 3.5 in. SATA HDDs come in 1–6 TB capacities. Models with 5 and 6 TB capacities feature NASware® v3.0 reliability and system performance optimization technology as well as 3D Active Balance Plus balance control technology. Offering 2–4 TB storage powered by NASware 3.0, WD Red Pro HDDs address medium to large business NAS market and specifically support 8- to 16-bay NAS systems. WD Green™ HDDs come in 5 and 6 TB capacities.
---
Original Press Release:

WD® Expands NAS Storage Offerings with 6 TB, 5-Platter Hard Drive Featuring Industry-Leading Areal Density



WD Red® Now in 6 TB Capacities; NASware 3.0 Increases NAS System Bay Count Support to Eight Bays; New WD Red Pro Deepens Reach into Medium to Large NAS Market



IRVINE, Calif. -- WD(®), a Western Digital® (NASDAQ:WDC) company, and world leader in storage solutions, today announced the expansion of its award-winning WD Red® line of SATA hard drives for home and small office NAS (network attached storage) systems with the release of a 5 TB(1) and first-to-market 6 TB capacity for NAS-specific storage and the introduction of WD Red Pro hard drives that address the medium to large business NAS market. Compatibility-tested with top NAS system manufacturers and optimized for power and performance, WD Red 3.5-inch hard drives are now shipping in 1 TB to 6 TB capacities; and the new WD Red Pro 3.5-inch hard drives are available in 2 TB to 4 TB capacities.



"With the expansion and evolution of the WD Red family, WD once again is providing its loyal customers with increased capacity up to 6 TB; improved bay count support with up to 8 bays; increased product breadth with WD Red Pro; and more features with the latest generation of NASware technology," said Matt Rutledge, senior vice president and general manager, WD Storage Technology. "WD continues to listen to its customers and bring exciting innovation to the category they helped to create."



WD Red



A storage industry innovation first introduced in 2012, WD Red hard drives address the unique environment of NAS and the growing demand for affordable, reliable and compatible storage that reduces customer total cost of ownership. With the release of 5 TB and 6 TB models, the WD Red line of hard drives is now further enriched with greater storage capacity and increased performance with NASware 3.0, an enhanced version of WD's original NASware® technology, designed to improve reliability and system performance, reduce customer downtime and to simplify the integration process.



WD Red hard drives also feature 3D Active Balance Plus, an enhanced balance control technology, which significantly improves overall drive performance and reliability. Exclusive for WD Red customers, WD offers free premium 24x7 dedicated support.



By increasing NASware 3.0 capability, the WD Red 1-6 TB capacity drives are capable of supporting up to eight bay NAS systems with no negative impact to performance.



WD Red Pro



Ideal for medium to large business environments, the new WD Red Pro line of NAS hard drives supports eight to 16 bay NAS systems. The enhanced design offers reliable, high performance storage powered by NASware 3.0. By introducing the WD Red Pro, WD now has a full portfolio NAS storage solution with the WD Red family (WD Red and WD Red Pro) for both consumer and business NAS solutions.



WD Green



The WD Green(TM) line of cool and quiet hard drives is also seeing capacity expansion with 5 TB and 6 TB additions for high capacity consumer storage.



High capacity WD 6 TB hard drives will integrate seamlessly with WD's My Cloud®, My Cloud EX2, My Cloud EX4, My Cloud Mirror personal cloud storage as well as My Book® and My Book Duo external drive solutions and are compatible to work with a wide array of WD OEM NAS partners. An updated list of WD Red-qualified products and manufacturers is available on the WD website at http://www.wdc.com/en/products/products.aspx?id=810.



Availability and Pricing



Available now at select U.S. retailers and distributors, WD Red and WD Red Pro have three- and five-year limited regional warranties, respectively. Manufacturer's suggested retail price (MSRP) for WD Red 5 TB (model #: WD50EFRX) is $249.00 USD, and $299.00 USD for 6 TB (model #: WD60EFRX). Pricing for WD Red Pro 2 TB (model #: WD2001FFSX) is $159.00 USD, $199.00 USD for 3 TB (model #: WD3001FFSX) and $259.00 USD for 4 TB (model #: WD4001FFSX). More information about WD Red hard drives including terms of the limited warranty may be found on the company website at http://www.wdc.com/en/products/internal/nas/.



WD Red NAS Hard Drive Launch Partners



ASUSTOR



"In the digital era of exponential data growth, the need for versatile cloud storage that integrates storage, backup and file sharing has never been greater. ASUSTOR NAS devices were created to meet these demands for both home and enterprise users alike. Innovative technology, an intuitive interface and compatibility for Windows, Mac and Unix operating systems make ASUSTOR NAS devices the optimal choice for creating a cloud storage space. When creating a cloud storage space, stable hard disk storage is an extremely important factor. The newly launched WD Red series not only provides high capacity drives at 6TB/5TB, but also offers the type of stable performance, energy efficiency and quiet operation, that make it an excellent choice for use with ASUSTOR NAS devices such as the AS-608T and AS-609RD," said Shawn Shu, president of ASUSTOR.



I-O DATA DEVICE, Inc.



"We think that new WD Red's enhanced compatibility, capability and reliability as well as expanded capacity will lead to expansion of the NAS product lines targeted at the SMB/SOHO segment as the needs for the NAS system that offers high performance and reliability as well as the effective platform to share the ever ballooning business data increases. We also think that WD Red Pro will contribute to the expansion of the overall NAS market since it shares the same technology platform as the enterprise products and is tailored for the NAS systems of medium to large businesses. We look forward to offering NAS products to the wider customer base with the new NAS optimized products", said Tomomi Tsuchida, executive officer general manager of Business Strategy Dept. of I-O DATA DEVICE, Inc."



QNAP Systems, Inc.



"The constant growth of data and the need for intensive data access across diverse applications continuously drive NAS users' needs for hard drives with the highest capacity, reliability and performance," said Richard Lee, CEO of QNAP Systems, Inc. "The launch of WD Red 6TB NAS hard drives and WD Red Pro NAS hard drives offer QNAP Turbo NAS products with more reliable solutions for 24/7 operations to meet the specific requirements of home NAS users and medium-to-large-scale businesses respectively."



Synology Inc.



"Synology is excited for the launch of 6 TB WD Red and WD Red Pro hard drives, allowing for more choices of hard drives to fit various requirements. Together with WD Red drives, Synology DiskStation and RackStation provides users with reliable solutions that grow with their storage demands, and efficiently centralize and share their data," said Rosiel Lee, senior sales and marketing manager.



Thecus Tech., Corp.



"The introduction of the WD Red 6 TB and the WD Red Pro 4 TB by WD provide SOHO and SMB users with tools that are essential for an optimal data storage environment. These drives, along with our Thecus NAS units, will provide high-powered, comprehensive solutions to the storage industry," said Florence Shih, CEO at Thecus Technology Corp.



WD



"The My Cloud family has received strong reception from consumers," said Scott Vouri, vice president of marketing for WD's content solutions group. "WD Red drive offers ideal attributes for small NAS systems, including My Cloud, in which customers will benefit from those attributes in the future."



About WD



WD, a Western Digital company, is a long-time innovator and storage industry leader. As a storage technology pacesetter, the company produces reliable, high-performance hard disk drives and solid state drives. These drives are deployed by OEMs and integrators in desktop and mobile computers, enterprise computing systems, embedded systems and consumer electronics applications, as well as by the company in providing its own storage products. WD's leading storage devices and systems, networking products, media players and software solutions empower people around the world to easily save, store, protect, share and experience their content on multiple devices. WD was established in 1970 and is headquartered in Irvine, California. For more information, please visit the company's website at www.wd.com.



Western Digital Corp. (NASDAQ: WDC), Irvine, Calif., is a global provider of products and services that empower people to create, manage, experience and preserve digital content. Its companies design and manufacture storage devices, networking equipment and home entertainment products under the WD, HGST and G-Technology brands. Visit the Investor section of the company's website (www.westerndigital.com) to access a variety of financial and investor information.



Western Digital, WD, WD Red, NASware, My Cloud, My Book, the WD logo registered trademarks of Western Digital Technologies, Inc. in the U.S. and other countries. Other marks may be mentioned herein that belong to other companies. Pictures shown may vary from actual products. Not all products may be available in all regions of the world.



(1) Total space available for user content will vary based on RAID/JBOD/spanning configuration chosen. As used for storage capacity, one megabyte (MB) = one million bytes, one gigabyte (GB) = one billion bytes, and one terabyte (TB) = one trillion bytes. Total accessible capacity varies depending on operating environment.



CONTACT: Heather Skinner, WD Press Relations, 949.672.7920, heather.skinner@wdc.com; or Bob Blair, Western Digital Investor Relations, 949.672.7834, robert.blair@wdc.com

More from Software