Inductive Angle Encoder withstands harsh environments.
Press Release Summary: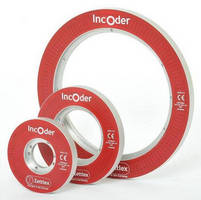 Available with ODs from 75-250 mm, IncOder uses absolute inductive measuring technique and offers measurement performance unaffected by humidity, moisture, condensation, or dust. Components of this non-contact, absolute angle encoder include powered stator and passive rotor, each shaped like flat ring. Through-bore size accommodates larger through-shafts, slip rings, cables, etc., while flat, low-profile design accommodates applications with limited space.
---
Original Press Release:

New Inductive Angle Encoder Offers Unrivalled Measurement Performance in Harsh Environments



A groundbreaking high precision angle encoder has been launched, which uses a unique absolute inductive measuring technique. The measurement performance of the device is unaffected by humidity, moisture, condensation or dust and so is ideal for use in harsh environments where electrical contacts, optical encoders or capacitive devices may be unreliable.

The IncOder is a non-contact, high precision absolute angle encoder, designed and manufactured by Zettlex. IncOder has two components: a Stator and a Rotor, each shaped like a flat ring. The large through-bore makes it easy to accommodate large through-shafts, slip rings, cables and so on.

IncOder is aimed at a variety of applications, including test and calibration equipment; rotary joints and gimbals; camera mounts; actuator servos and motor encoders; radar systems; light and heavy calibre weapons systems; antenna pointing devices and range finders; robotic arms and CNC machine tools; packaging and laboratory automation. Zettlex chose this year's Farnborough International exhibition in July to launch the new device, which created quite a stir amongst aerospace and defence companies.

Mark Howard, General Manager at Zettlex comments: "The IncOder has an unusual shape and so immediately grabs the attention of design engineers. The device was purposefully designed to be flat with a low profile - so it makes life easier for design engineers when they are struggling with limited space. For example, bearings, drive shafts or cables may need to be passed right through the space where traditional rotary encoders might sit. This is where IncOder really provides engineers with technical advantages."

The IncOder's Stator is powered, whilst the Rotor is passive. The Stator contains all necessary power supply and signal processing electronics. The electrical output from the Stator shows the position of the Rotor relative to the Stator.

As Howard puts it: "Because of the way we've designed the IncOder, there is no requirement for couplings or gears between the main shaft and the encoder. The rotor and stator can simply be screwed directly to the host product. Precise mechanical mounting is not required and there is no need to align bearings."

In harsh environments, IncOder is unaffected by condensation or dust. Robust aluminium alloy housings and monolithic constructions are used for both Rotor and Stator. With the IncOder, there are no contacting, delicate or wearing parts, which means no periodic replacement, servicing or maintenance. "IncOder already has a solid track record in safety-related applications, including airborne equipment, military manned and unmanned vehicles and weapons systems," adds Howard.

The IncOder works in a similar way to a resolver. However, IncOder uses laminar windings rather than wire spools, which enables higher measurement performance, a more compact design, low mass and low inertia.

Measurement performance is unaffected by humidity, moisture or condensation. "The IncOder will even survive temporary immersion in salt or fresh water to a depth of up to ten metres," says Howard.

IncOder is available with outside diameters from 75mm (INC-75) up to 250mm (INC-250), although other sizes are available as custom OEM versions.

For more information on Zettlex's IncOder, please telephone 01223 874 444 or visit the website at www.zettlex.com or email mark.howard@zettlex.com

About Zettlex UK Ltd:

Zettlex is a sensors company. The company's range of sensors measure position or speed accurately and reliably, even in harsh conditions.

Zettlex designs and manufactures its own sensors and supplies sensor components and integrated circuits. The company also offers custom designed and manufactured sensors for specific customer applications.

Unique technology and laminar, printed designs, enables Zettlex to manufacture sensor solutions that have no contacts, no bearings, no delicate parts and zero maintenance, just accurate measurements.

Zettlex sells directly to OEMs and system integrators across a broad range of industry sectors. Applications include position measurement, servo and motor controls, and user interfaces. Around 50 per cent of the company's business is safety-related or safety-critical.

Zettlex is ISO 9001 and BS EN 13980 certified for the manufacture of electromagnetic sensors, including sensors for intrinsically safe (ATEX) environments.


Related