High-Resolution Cameras offer USB 3.0 Super-Speed Interface.
Press Release Summary: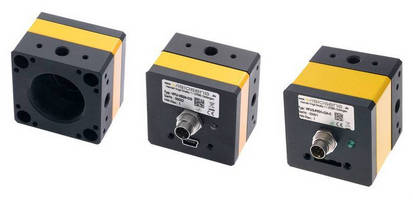 Comprised of CCD and CMOS image sensors with resolutions from 0.4-10.1 MP, Visiosens VFU Camera Platform offers USB 3.0 interface for transfer of data at up to 5 Gbps. Additional features include drivers; various output interfaces, mounts, and filters; and optional integrated LED ring. For all variants, user and system interface is built on unified, future-proof, cross-platform SDK based on .NET(TM) technology. Housing is designed for industrial systems as well as microscopy.
---
Original Press Release:

FRAMOS Announces USB3.0 Super-Speed Interface for Visiosens VFU Camera Platform...with Data Transfer at up to 5Gbps and Customised for High-Tech Sector



Camberley, UK - Image processing specialist FRAMOS, announces the new USB3.0 Super-Speed Interface for the Visiosens VFU Camera Platform enabling data transfer speeds of up to 5Gbps.

The Visiosens platform concept provides a single highly sophisticated software interface for all your cameras in all your applications, including specifically customised devices. The table below shows the range cameras with their respective USB interfaces and frame rates.

The newly extended VF camera series is available now and is much more than just a range of cameras; it is a highly flexible and customisable image capture platform with more than 140 camera variants per image sensor.

The Visiosens platform comprises a growing range of CCD and CMOS image sensors with resolutions ranging from 0.4 to 10.1 Megapixels, a variety of output interfaces including USB2.0 & USB3.0 with fully-owned drivers, complementary assembly concepts, mounts, filters and an optional integrated LED ring. For all variants, the user and system interface is built on a unified, future-proof, cross-platform software development kit based on the latest .NET(TM) technology and compatible with Windows and Linux.

The extremely robust camera housing is specifically designed for industrial systems as well as for microscopy. It offers multiple mounting options on each side and front face, all of which are symmetrical to the optical axis of the sensor.
You can choose from C-, CS- or M12-mounts for all models. An optional LED ring with 7 colour options, integrated in the housing and connected to the 8-pin I/O port with 3 IN and 3 OUT ports saves money and space.

Julian Parfitt, Managing Director, Framos Electronics Ltd commented, "The system design and production process is optimised for a variety of options and ensures very short delivery times at an outstanding price-performance ratio. This, combined with the strategic addition of the USB3.0 Super-Speed Interface, enables maximum flexibility for customer-specific developments."

The system comes with full hardware and software documentation and SDK as well as OEM customisation services.

To download the above table please click here.

For further information, please see the following link:
http://www.framos.eu/news/news/single-view/article/vf-camera-platform-now-featuring-usb-30-super-speed-interface.html

About Framos
Headquartered near Munich, Germany, Framos GmbH has been established as an innovative and active partner in industrial image processing for the last 30 years. Together with its comprehensive portfolio of imaging components such as sensors, companion chips, camera modules, cameras, lighting and accessories, we support our customers with a real variety of development services, ranging from short-term solutions for complex demands up to large scale marketable developments of complete systems. On this basis, we find or develop solutions for the key challenges in image processing, so that our customers can focus on increasing their competitive advantage.

For more information, please visit the company's website at: www.framos.eu

Issued on behalf of:

Framos Electronics Ltd
The Coliseum Business Centre
Riverside Way
Camberley, Surrey
GU15 3YL, UK

Contact: Julian Parfitt, Managing Director
Phone: +44 (0)1276 404 141
Email: j.parfitt@framos.co.uk
Web: www.framos.eu

More information from:

JDK Marketing Communications
The Oasts, Charmans Farm
Beggars Lane
Westerham
Kent TN16 1QP

Contact: John Kearley, Director of PR
Phone:+44 (0)1959 562 772
Email: john@jdk.co.uk
Web: www.jdk.co.uk

More from Electronic Components & Devices