Garage Organizer creates organized work environment.
Press Release Summary: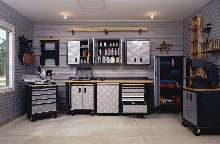 Gladiator(TM) GarageWorks is comprised of modular products, some of which have stamped metal tread plate design theme. GearWall(TM) panels incorporate grooved channels that hold additional products: Wall GearBox, various hooks, shelving units, and storage baskets. Offered in 6 or 8 ft versions, Modular Workbench has heavy-duty steel frame, weather-tested design, and ample space beneath it to accommodate modular components that dock beneath/around workbench.
---
Original Press Release:

New Product Line Spurs New Thinking in Interior Design


Gladiator(TM) GarageWorks Focuses on "Last Frontier" of Home Organization"

BENTON HARBOR, MI (May 8, 2003) - Few rooms in the house have the decorative imprint of both spouses. Whether it's the kitchen, the living room or the dining room, women often wield more influence over decorating decisions. One often-overlooked room that traditionally falls under men's influence is the garage. In most cases this space becomes a house's "black hole", even though both spouses might want to give it more attention.

With Gladiator(TM) GarageWorks space-creating solution system, every garage can become a homeowner's pride and joy instead of their dirty little secret. Whether it's working on a new home improvement project, fixing the car or finding a quiet escape, the Gladiator(TM) system enables homeowners to create and maintain an organized work environment that will make them proud.

"As homeowners look for more usable space and value in their home, they tend to overlook the garage," said Alene Workman, principle of Hollywood, Fla. based Alene Workman Interior Design Inc. and Fellow of American Society of Interior Designers. "Reordering the garage to be both a livable and functional space is not a radical idea. In most homes, the garage is often the starting point for many activities and it makes sense for homeowners to begin rethinking this untapped space."

For builders, designers and architects, the garage has enormous potential as a new category in home redesign. With new innovations for every room in the home, building and design professionals must constantly rethink their plans to accommodate new products for the homebuyer and builder.

"There have been major design advancements and transformations in every room of the home," said Steven Mickley, Managing Director of SGA Architects in Palm Beach, Fla. "However, design professionals and architects need to inform and remind new homeowners of the positive impact that a functional garage can have on their daily lives."

Gladiator(TM) GarageWorks provides a total, integrated solution comprising a full line of modular products, allowing consumers to completely transform their garage over a weekend or in stages if they prefer. All Gladiator(TM) products are engineered by Whirlpool Corporation to perform garage environments, and many of them sport a design theme incorporating stamped metal "tread plate" for a rugged, yet sleek look.

"For years, consumers have turned to Whirlpool® products to help make their lives more efficient and enjoyable, and to help make their homes more beautiful and functional. Having fixed every other room in the house, people are now looking to the garage as the final frontier in home redesign," said Tom Arent, General Manager of Gladiator(TM) GarageWorks. "At Gladiator, we've listened to what consumers say they want out of their garages, taken the best practices from Whirlpool's global design and technology, and applied it all to create an innovative solution that will give homeowners the best garage on the block."

The foundation of the Gladiator(TM) system are GearWall(TM) panels, an integral component that will literally transform the garage from floor to ceiling and free up valuable floor space. Perfect for do-it-yourselfers, the GearWall(TM) panels are easy to install and feature grooved channels designed to securely hold additional Gladiator(TM) products, such as the Wall GearBox, and a variety of hooks, shelving units and storage baskets specifically designed to hold common garage items, such as wheelbarrows and gardening tools.

Having decked the walls, consumers can turn to either the six or eight-foot Modular Workbench, which provides a stable workspace to complete a number of projects at once. The heavy-duty steel frame and weather-tested design ensures the life of the product. But what sets this workbench apart is the space underneath it, which is designed to accommodate an array of modular components that dock conveniently beneath or around the workbench, completing the work environment and putting everything in its place.

The Modular Garage Refrigerator (a.k.a. The Beer Box), provides quick access to cold beverages as homeowners wrestle with their latest home project, or take a break from it. Additional components in this versatile family of products include the Modular GearBox, Modular Gear Drawers, the Tall GearBox and the Gear Rack.

For more information on all Gladiator(TM) products, see the attached document, "Gladiator(TM) GarageWorks Product Overview."

Gladiator(TM) GarageWorks products are available nationwide. The system is a new product line developed by the Whirlpool Corporation. For more information visit www.GladiatorGW.com or call 1-866-342-4089.

Related