Electronic Enclosures offer clean out modification option.
Press Release Summary: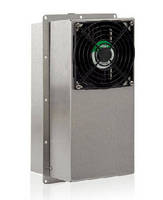 To help minimize downtime, EIC Electronic Enclosures are available with M74 option, which facilitates washdown of thermoelectric coolers that are mounted to enclosures. To remove hot side or outside cover of thermoelectric cooling unit, operator loosens acorn nuts by hand, eliminating need for tools. Weather-tight indoor/outdoor enclosures are constructed of powder coated steel, built to NEMA standards, and are suitable for wall-, pole-, or floor-mounted applications.
---
Original Press Release:

New Option for Thermoelectrically Cooled Electronic Enclosures Makes Washdowns Fast and Easy.



Warminster, PA,  --  EIC Solutions, Inc., a leading manufacturer of thermoelectric air conditioners, electronic enclosures and transit cases, has announced the new M74 clean out modification option which facilitates washdown of thermoelectric coolers mounted to electronic enclosures. The M74 option was application-driven arising from suggestions received from customers in food processing, and other process industries requiring frequent rinsing or washing of equipment. By making washdown faster and easier, the clean out modification helps minimize downtime and helps promote consistent production rates.



In food processing, periodic washdowns are required to meet various regulations and laws. The same applies to many medial, laboratory and clean room applications. Electrical wires and electronic gear used in these processes are enclosed to protect them from liquids and cleaning agents. The enclosures are then subject to washdown regulations. During both manufacturing and washdown procedures, liquid and debris may find their way into the openings in the thermoelectric air conditioner covers. The openings are machined into the cooler panels to create space for fans and to permit adequate air circulation. A thorough washdown may or may completely not flush out the openings.



Removing the air conditioner covers used to require the use of screwdrivers, wrenches or other tools. Additionally, hardwired electrical connections to fans had to be cut which took time and made for tedious reinstallation of the covers. EIC's clean out modification option eliminates the need for tools when removing the covers for cleaning. This simplifies and expedites washdown procedures and also speeds up the process of reinstalling the covers which means less production downtime.



"To remove the hot side or outside cover of an EIC thermoelectric cooling unit the operator simply loosens a few acorn nuts by hand," said Josh Liegel, EIC senior sales engineer. "The electrical leads are fitted with quick disconnects so the cover can be completely removed very quickly -- in a fraction of the amount of time it used to take." Liegel said the internal portion of the air conditioner's "hot-side" may then be power washed assuring the removal of clinging debris. Liegel explained that a more thorough cleaning is achieved through removal of the fans which are rated for moisture resistance and are not adversely affected by washdowns.



Made in the USA, EIC electronic enclosures protect electronics and equipment from environmental factors such as liquids/moisture, dust, oils, chemicals, temperature swings, corrosion, vibration and more. A variety of cabinet styles house electrical controls, cameras, telecommunications equipment, surveillance devices and security equipment. Additionally, rack-mount models accommodate single or multiple 19-inch rack-mount gear such as DVRs, servers, routers, modems, switches, amplifiers and network gear.



EIC enclosures are suitable for wall-, pole- or floor-mounted applications. The enclosures are for indoor or outdoor use and are built to NEMA standards, available in NEMA 12/4 configurations. The weather-tight cabinets feature rugged, powder coated steel construction and may be fitted with a wide range of options such as thermoelectric air conditioners, heaters, digital temperature controls, rain shrouds and tamper resistant packages. 



For more information about EIC electronic enclosures designed for rapid washdown procedures please contact EIC Solutions, Inc., 700 Veterans Way Ste. 200, Warminster, PA 18974 USA. Phone: 215-443-5190. Fax: 215-443-9564. email: info@eicsolutions.com. Or visit the EIC web site at http://www.eicsolutions.com.



About EIC Solutions, Inc.

EIC Solutions, Inc., is a leading global provider of cooling and protection solutions for electronics and equipment. Since 1988, EIC has specialized in the design and manufacture of thermoelectric cooling systems for a wide range of applications in many markets including industrial, commercial, military and defense, security and surveillance, oil and gas and infrastructure markets. EIC thermoelectric air conditioners, air conditioned enclosures and air conditioned transit cases meet application requirements for housing and cooling electronics and equipment  -- both stationary and mobile -- in harsh indoor as well as outdoor environments. In addition to pre-packaged solutions, EIC can create custom engineered products designed to meet unique application needs. Flexible production capabilities enable EIC to provide standard and custom solutions for orders ranging from a single piece up to large-scale production rollouts. EIC's customers include Fortune 100 companies, all branches of the military and government agencies.



More from Packaging Products & Equipment