Electric Pressure Washer removes chewing gum.
Press Release Summary: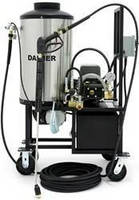 Requiring 220–240 V power and diesel or kerosene for heating, Super Max™ 12820 dissolves chewing gum from surfaces such as parking lots, sidewalks, pavers, and brick, without need for scrubbing or chemicals. Heavy-duty schedule 80 heating coil converts cold water to hot in nearly 30 seconds, while tri-mode operation enables use as cold water system, wet steam unit, or hot water pressure washer. System offers pressure level of 1,500 psi with flow rate of 3 gpm and temperatures to 330°F.
---
Original Press Release:

Daimer Unveils Pressure Washer Machines For Faster Chewing Gum Removal



Daimer Industries, Inc.®, the leading provider of pressure washer equipment, including gas pressure washer and electric pressure washer machines, modern auto detailing systems like technologically-superior car wash equipment, and many more machines and technologies, is now shipping the Super Max™ 12820, a powerful, tri-mode industrial pressure washer machine, to remove chewing gum graffiti globally.



"Ugly chewing gum deposits on outside areas are now becoming more prevalent than in the past," says spokesman of Daimer Industries, Inc.®, Matthew Baratta. "Daimer® is proud to launch a uniquely power-enhanced and advanced machine with superior technologies to get rid of chewing gum spots efficiently."



Each person chews nearly 300 sticks of gum on an average every year. With the increasing amount of chewing gum consumption, the disposal rate also rises. These gum pieces are generally disposed of on outside areas like parking lots and sidewalks. So, robust industrial pressure washer machines with high cleaning power and exclusive technologies are required to make the task easier.



The Super Max™ 12820 high-quality commercial pressure washer from Daimer® http://www.pressurewasherscleaners.com/commercial.php offers the industry's highest steam temperatures to effectively dissolve gum wads from surfaces, such as parking lots, pavers, concrete sidewalks, brick, and more. The equipment is capable of dissolving as much as 1200 chewing gum pieces per hour, which equals nearly 10 times the cleaning power of other vapor steam and other technologies.



At present, steam vapor technology is used for removing tough chewing gum spots. Traditional vapor steamers require pre-spraying each spot with chemicals prior to using brushes to rub each piece. However, the Super Max™ 12820 http://www.daimer.com/pressure-washers/super-max-12820.htm is a high-rated electric pressure washer that does not require any scrubbing or use of chemicals. The machine is a more effective and faster way of eliminating ugly gum pieces without leaving behind gum residues.



The top-quality pressure washer needs only one 220V-240V power cord for power and is heated by diesel or kerosene. The heavy-duty schedule 80 heating coil converts cold water to hot in nearly 30 seconds. The Super Max™ 12820 can be used as a cold water pressure washing system, high-powered wet steam pressure cleaner http://www.daimer.com/all-steam-pressure-washers/ , or hot water pressure washer, depending on the cleaning application.



The system offers a pressure level of 1500 psi, or substantially lower pressure than is generated by conventional machines of up to 4000 psi. The Super Max™ 12820 commercial pressure washer with a flow rate of 3 gpm and temperatures up to 330ºF, offer enhanced cleaning power and faster operation, without etching the concrete.



The best pressure washer can be configured as a trailer mounted pressure washer, making it among the best machines in terms of convenience for chewing gum removal http://www.chewinggumremovalmachines.com/chewing-gum-removal-machines.php. The Super Max™ 12820 with its stainless steel and powder-coated, high gloss, chip/chemical resistant housing, comes with a 50' high pressure steam hose and a 3' durable trigger wand with a quick disconnect.



For Additional Information:

To learn more about the Super Max™ 12820, visit http://www.daimer.com or call Matthew Baratta at (888) 507-2220. Daimer® systems are available in various power configurations for worldwide use.



About Daimer Industries, Inc.®:

Daimer Industries, Inc.® is the industry's top-ranked provider of pressure washing systems like gas pressure washer and hot water pressure washer machines, hard floor cleaners, carpet cleaning equipment, and more with advanced technologies.

More from Services