Dual-Sided Interactive Screen enhances customer QoE.
Press Release Summary: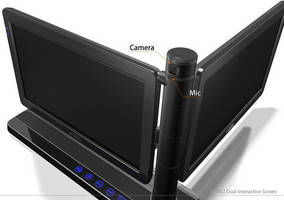 Reducing need for hardcopy printouts, 18.5 in. U-See2™Â DS1962 lets businesses display select personal information and targeted promotions over client screen in real-time. Panel-based touch buttons allow operation in Clone Mode, where agent and client view identical content on their screens, or Extended Mode, where different view appears on each screen as configured in Windows®. Drag-and-drop application lets agent use mouse to select any part of screen for display on client screen.
---
Original Press Release:

U-see2 - 18.5" (47 cm) Dual-Sided Interactive Screen



Enable service agency and business to improve its service and enhance customer experience



Gilching, Bavaria, Germany and Limasol, Cyprus



Display Solution AGs partner U-See2, will unveil the DS1962, the world's first dual-sided interactive screen offering businesses to improve its service, by displaying over the client screen selected personal information as well as targeted promotion.



Countless organizations provide computer-based services to their customers and clients. Every day, these businesses let their clients face the back side of computer screens, cutting them off from the very services intended for their benefit. The result is customer alienation, and a potential loss of revenue.



U-See2 is a patented dual-sided screen that offers highly flexible viewing. Its swivel arm allows the system to operate either back-to-back, or in a side-by-side configuration. The client-side touch screen makes the customer a full participant in the service process. The U-See2™ has a number of intended uses and clear advantages over the single screen monitor:



• Enhance customer quality-of-experience, customer become part of the process

• Provide the customer with real-time information

• Intelligent use of limited time, attention span, technology and desktop space

• Maximize purchasing decisions with dynamic, personalized ads

• Go "green" – reduce the need for hardcopy print-outs



Panel-based touch buttons allow U-See2 to be operated in two modes:

- Clone Mode: Both agent and client view identical content on their screens.

- Extended Mode: A different view appears on each screen as configured in MS-Windows.



Using the U-See2`s "drag-and-drop" application, the agent can use the mouse to select any part of his or her screen for display on the client screen, controlling exactly what information is presented to the customer.



Further details and a live demo of U-See2 will be offered at stand 9-A136 at ISE in Amsterdam from January 29th to 31st 2013.



For more information, please visit www.display-solution.com or www.U-SEE2.com .



About Display Solution AG

Display Solution, based in Gilching, Bavaria, Germany, is a leading developer and marketer of customized LCD solutions for existing and future markets, combining leading-edge screen and electronic technologies. Products range from single components to complete system solutions built around TFT displays for commercial and industrial use with application in such areas as digital signage, point-of-sale, point-of-information, automation, measurement engineering, medical instruments, and other mobile and embedded applications.

www.display-solution.com/en



About U-See2™

U-See2™ Ltd. is a private innovative company that is developing and manufacturing a patented dual-sided screen solution, for enterprises and service agencies market. Over the last 2 years the company has leveraged the latest display technologies to build a unique and customized hardware and software solution. The company completed to design a mass production manufacturing line and started its international marketing & sales activities focusing on IT distributors and integrators.

www.U-SEE2.com



Trademarks are the property of the respective parties.



Press Contact



Doris Froitzheim

Marketing Communication at Display Solution AG



dfroitzheim@display-solution.com

+49 +89 (0)8105 73403-12



Display Solution AG

Talhofstr. 32 - 82205 Gilching (Greater Munich Area)

Germany

More from Materials