Dryer Vents implement magnetically aligning design.
Press Release Summary: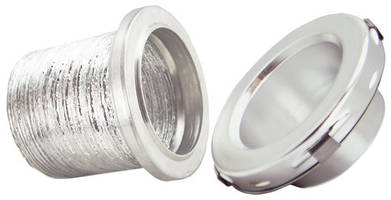 Available for new and existing construction, low-profile dryer venting can be used in area behind most dryers and promotes safety and energy efficiency while reducing vent path bulk. There are 3 magnetically aligning dryer vent models to accommodate various needs: MV-180 self-aligning dryer vent for straight vent path, MV-90 self-aligning dryer vent for 90° vent path, and MV-Flex for any direction venting. Construction is resistant to crushing and obstruction.
---
Original Press Release:
MagVent, LLC Releases its Revolutionary Magnetically Aligning Dryer Vent Coupling!
Of Interest to Distributors, Contractors, HVAC Professionals, and Conscientious Homeowners.

MagVent delivers a more convenient and efficient dryer venting solution than the traditional mess of flexible transition duct allows. Its low profile design is a perfect fit for the cramped area behind most dryers. By creating a safer, more energy efficient, and less bulky vent path, MagVent has eliminated the uncertainty in dryer installations, providing a dryer vent solution you can feel good about.

MagVent provides three different magnetically aligning dryer vent models that accommodate a variety of dryer venting needs. The MV-180 is the self-aligning dryer vent for a straight vent path. The MV-90 is the self-aligning dryer vent for a 90 degree vent path. Finally, the versatile MV-Flex is designed to accommodate any direction venting. All of MagVent's models are available for new and existing construction, and can be found at www.magventllc.com.

MagVent's ability to provide a convenient, minimum path duct, that resists crushing and obstruction, allows the dryer to operate at optimum efficiency, saving energy. This saves you money, while helping to conserve our environment and energy resources.
MagVent: Easy, solid installs that boost dryer efficiency and safety!

Angie Proctor
MagVent, LLC
(888) 960-7484
angie@magventllc.com
www.magventllc.com
More from Sensors, Monitors & Transducers