Closed Loop Wind Tunnel facilitates high temperature studies.
Press Release Summary: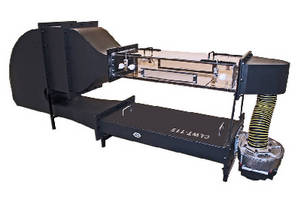 Producing air flows up to 1,000 fpm, Model CLWT-115 provides system for thermally characterizing PCBs, heat sinks, and components at controlled temperatures from ambient to 185°F. Clear Lexan test section, measuring 30.5 x 10.2 x 4.55 in., provides continuous view of test specimens, as well as flow visualization studies. Chamber can be accessed from top or sides for mounting and repositioning components. Six ports on side walls are provided for temperature and velocity sensors.
---
Original Press Release:

New Closed Loop Wind Tunnel for High Temp Studies



Norwood, MA, - The new CLWT-115 research quality, closed loop wind tunnel from Advanced Thermal Solutions provides an accurate and convenient system for thermally characterizing PCBs, heat sinks and components at controlled temperatures from ambient to 85°C (185°F).

The CLWT-115 wind tunnel produces air flows up to 5 m/s (1,000 ft/min). Using optional orifice plates it can generate flows up to 50 m/s (10,000 ft/min). The instrument's clear Lexan test section provides a continuous view of the test specimens, as well as flow visualization studies, e.g. using smoke or vapor.

Unlike open loop wind tunnels, the CLWT-115 recirculates internal air. This allows the system heater to quickly warm the air to a specific temperature. The testing of boards and components in hot air is a requirement in some NEBS and other standards. The precise controls and temperature range of the CLWT-115 wind tunnel allows its use for testing heat sink performance and for calibrating air and temperature sensors.

The wind tunnel provides a generous test section measuring 77.6 cm x 26 cm x 11.6 cm (30.5 in x 10.2 in x 4.55 in). This chamber can be accessed from the top or sides for mounting and repositioning boards, components and sensors. Internal rail guides provide an easy system to install test specimens of different sizes (e.g., PCBs, heat sinks). Six instrument ports in the side walls of the test section are for temperature and velocity sensors such as thermocouples, Pitot tubes and hotwire anemometers.

A complete CLWT-155 wind tunnel fits on most lab benches and is powered from standard AC outlets. Its footprint is smaller than traditional, closed loop wind tunnels or environmental test chambers.

Contact ATS for pricing, customizing and delivery. More information on the CLWT-115 wind tunnel is at http://www.qats.com/products/Wind-Tunnels/Closed-Loop-Wind-Tunnels/CLWT-115/2633.aspx

About Advanced Thermal Solutions

Advanced Thermal Solutions is a leading engineering and manufacturing company supplying complete thermal and mechanical packaging solutions from analysis and testing to final production. ATS provides air and liquid cooling solutions, laboratory-quality thermal instrumentation, along with thermal design consulting services and training. Tel: 781-769-2800. Qats.com

More from Electrical Equipment & Systems