Additive Manufacturing Services
3D Printing Software and Service target medical industry.
Press Release Summary: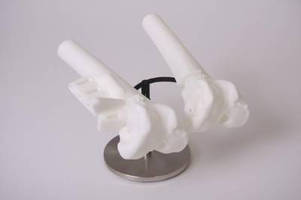 Incorporating Mimics® Innovation Suite software, 3D Printing services for anatomical models, training, and consultation, Materialise Hospital Solution will assist with making 3D Printing in hospitals safe and accessible, and enable clinicians to address unique needs of each patient. Software and models can be used to explain patient's condition to families, assist in diagnosing complex pathologies, enable review of plan with surgical team, and support testing of procedure before going to bedside.
---
Original Press Release:

3D Printing the Future of Personalized Healthcare with the Materialise Hospital Solution



CHICAGO, -- Materialise NV (NASDAQ: MTLS), a pioneer in 3D Printing, is proud to announce at RSNA the introduction of the Materialise Hospital Solution, incorporating the Mimics(®) Innovation Suitesoftware, 3D Printing services, training and consultation. Materialise's Hospital Solution will assist with making 3D Printing in hospitals safe and accessible. Their 3D Printing services for anatomical models offers hospitals access to the latest technologies for 3D Printing backed by a comprehensive quality control system to ensure accuracy. To hospitals interested in printing educational models in-house, Materialise can provide everything needed from cleared software for medical image processing to consultation on the available technologies and training for each step of the process.



With the Materialise Hospital solution, clinicians are able to address the unique needs of each individual patient.  3D software and models can be used to explain a patient's condition to families, assist in diagnosing complex pathologies, enable the review of a plan with a surgical team and even support testing a procedure on the bench before going to the bedside. The ability to translate patient-specific data into an accurate and tangible model can revolutionize the way the medical community is addressing the challenges of the modern healthcare system.



"Hospitals are excited about 3D Printing and we want the technology to benefit as many patients as possible. With nearly 25 years of experience in medical 3D Printing, we are the trusted partner who can help hospitals navigate the opportunities and the best way to achieve their goals in a safe, economical and sustainable way. We're confident that our Hospital Solution of software, services, consultation and training will achieve this," commented Peter Verschueren, Materialise Business Development Manager.



3D Printing is perfectly positioned to be a game changer as it can assist in improving clinical outcomes, provide evidence and reduce costs. With regards to clinical outcomes, working in the 3D space opens the doors for treating a patient for their lifestyle and not just their disease. A great example is Koen, a surfer who feared he'd never ride a wave again after an unsuccessful ACL reconstruction and lateral meniscectomy. Thanks to the clinical services offered by Materialise for specialized surgical planning and 3D printed patient specific guides, Koen was able to make a full recovery and get back to the sport he loved.



Though 3D imaging is a powerful resource to assist in the diagnosis of patients, clinicians are collaborating with their radiology departments to take imaging to the next level with 3D Printing by providing additional evidence for determining treatment plans. In the case of a 16-year old named Bradley, the cardiologist and surgeon gained a better understanding of the complex situation of his tumor.  Having the 3D printed model enabled the team to confidently proceed with an electrophysiology study and catheter ablation over a risky surgical resection of the tumor.  Bradley was relieved to avoid another open heart surgery and continues to enjoy his teenage years.



Though these outcomes are exciting from the clinical perspective alone, they may also reduce costs. Minimizing expenses while improving outcomes is an area where 3D Printing can play a role. Recently a baby in New York was born with complex congenital heart disease. Thanks to a 3D printed model of his tiny heart, the surgical team was able to repair his heart in one surgery rather than three or four. Holding the model in their hands made it easier to visualize this unique approach. 



"It's hard to imagine entering an operating room for another complex case without the aid of a 3D printed model. It's definitely going to be standard of care in the future and we're happy to be leading the way," said Dr. Emile Bacha, a congenital heart surgeon and Director of Congenital and Pediatric Cardiac Surgery at NewYork-Presbyterian/Morgan Stanley Children's Hospital.



Partnering with Materialise allows hospitals to immediately benefit from 3D Printing and contribute to a better and healthier world.  



For more information on the Materialise Hospital Solution, visit Materialise at RSNA in Booth - #8521 in North - Hall B or www.hospital3Dprinting.com.



Video - http://origin-qps.onstreammedia.com/origin/multivu_archive/PRNA/ENR/161678-FX-20141202-Materialise-3D-Printing-RSNA.mp4



CONTACT: Abbey Delaney, North American Marketing Manager, Email: abbey.delaney@materialise.com, Phone: 734.259-7030, Cell: 989.860.8210, Twitter: @Mimics or @MaterialiseNV, Visit: biomedical.materialise.com  



Web Site: http://biomedical.materialise.com

More from Sensors, Monitors & Transducers