Reasons to Consider ReShoring of Your Injection Molding & Mold Building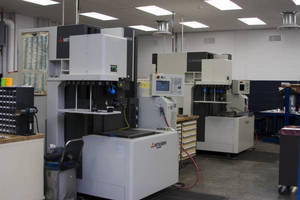 Harry Moser's Mantec ReShoring Initiative highlights several crucial benefits to bringing the manufacturing of goods within the molding industry back home to the United States. Many major companies have plants overseas that manufacture their products and then ship them back to the United States, where they are then sold to American consumers. ReShoring is the process of bringing the production and manufacturing of goods back to the United States from a foreign country.

o Net labor costs for manufacturing in China and the U.S.are expected to converge by around 2016

o Chinese labor will then cost about 20% to 30% of unit costs, and will be only 30% below the American level; this would be a savings of 10%

o Present manufacturers have a mindset that sending the production process overseas is cheaper; this is a dangerous misconception that needs to be altered

o Overseas manufacturing has statistically posed several large-scale problems:

- large batch shipments which overfill containers

- overproduction and lack of regulation

- inconsistent quality

- more packing and unpacking means that there is a higher likelihood of a damaged product, not to mention more man-hours in handling

Aside from Moser's Initiative, other efforts have been made to detail the importance of reShoring manufacturing. The website 3D Accuracy maintains a list of businesses that sell products strictly sold in the United States. Recently 3D Accuracy released a report detailing the benefits of manufacturing molding and casting products within the United States rather than using offshore producers.

o Compared to offshore molding, American products had a higher quality design and build. This means that far fewer repairs are required in the long haul, there is less down time over the life of the product, and lifetime costs are drastically reduced.

o The initial higher purchase price for goods made in the USA is rightfully justified

o Molds are generally designed based upon the Society of Plastics Industry standards.

o Experienced staff utilize state of the art 3D modeling software to complete molds, technology that is not available in many countries outside of the United States

o Mold components and materials are purchased from domestic sources

o All materials purchased must have proper certifications for steel type, and must be heat treated to ensure a quality mold

o American delivery schedules are generally more realistic

o Domestic mold shops can be easily visited by local businesses

o Business negotiations and solutions can be ironed out in an affordable manner during in-person meetings

o NDA's are respected, and carry the legal weight that can provide the best protection for intellectual property

o American companies can get ISO certifications, which easily provides proper legal documentation

At Crescent Industries, we understand that transferring tools from one location to another can be difficult and stressful. That's why we simplify the process through our systematic approach. Since 2000, we are proud to have transferred over 250 tools for customers.

To learn more about Crescent Industries, please call 800-411-3844 or visit our website www.crescentind.com.


More from Cleaning Products & Equipment