PCX Corporation Announces the Completion of a 500 KW Solar Array in Clayton, NC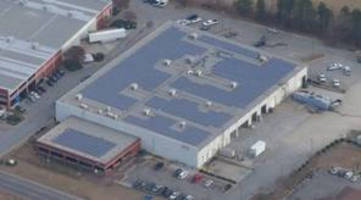 A 500 KW PV rooftop solar installation was successfully commissioned at PCX's manufacturing facility in Clayton NC.

PCX Corporation LLC, the leading manufacturer of offsite fabricated and modular electrical power systems for the commercial construction and data center industry, recently announced the commissioning of a rooftop solar array at its 70,000 square foot manufacturing facility in Clayton, North Carolina.

"PCX is very proud to host one of the first large roof mounted solar arrays energized in the Johnston County area. It demonstrates our commitment to the environment and our participation in the Green Energy movement with all of our customers." said Gary Pollock, VP and General Manager of PCX Corporation.

The solar farm is expected to generate approximately 650,000 kilowatt hours (kWh) of power annually, which would be enough electricity to power approximately 46 average sized homes. The installation is comprised of 2,030 solar panels supplied by Yingli Green Energy and is assembled on approximately 54 thousand square feet of unused roof space on PCX Corporation's manufacturing facility. The system will offset 670 tons of CO2 emissions equivalent to 78 passenger vehicles and keep 1,100 barrels of oil from being used each year. All of the power generated from the system will be sold back to the utility under a 20 year power purchase agreement.

"It has been a pleasure to work with PCX Corporation, MP2 Capital, and ESA Renewables to bring solar-powered manufacturing to Johnston County, North Carolina," commented Robert Petrina, Managing Director of Yingli Americas. "As a global leader in its industry, PCX Corporation is setting an influential example as one of the first solar adopters both in its local community and globally."

MP2 Capital, a leading investor in the renewable energy industry, provided the financing for the project. ESA Renewables, a turnkey solar solution provider, was responsible for overseeing construction and will be maintaining the system and providing operation and maintenance services (O&M).

"More and more companies are recognizing the need to move towards greener energy solutions to offset this country's independence on foreign oil," said Jeffrey Burkett, President of ESA Renewables.

About PCX Corporation, LLC:

PCX Corporation has over 20 years of experience of providing Prefabricated Modular Solutions to the Industrial, Utility and Commercial Construction Industry. With over 9,000 solutions provided in over 600 cities across North America as well as key installations in Asia and the European Continent, when it comes to prefabricated modular solutions, PCX Corporation continues to grow, innovate and lead. For more information about PCX Corporation visit www.pcxcorp.com or call 919-550-2800.

About ESA Renewables, LLC:

Located in Lake Mary, FL, ESA Renewables has positioned itself as a leader in the industry providing turnkey solar PV systems globally. ESA owns and operates a diverse portfolio of more than 500 solar PV power generating facilities located in the United States, Puerto Rico, Spain and Italy. ESA's scope of services includes financing, engineering, construction, testing, monitoring and operation and maintenance. With headquarters in Castellon Spain, ESA has additional offices in Florida, North Carolina, Puerto Rico, Chile, and Italy. For more information about ESA Renewables, LLC, please visit www.esarenewables.com or call 407-268-6455.


Related