Networking Options Provide Industries with Dependable Connections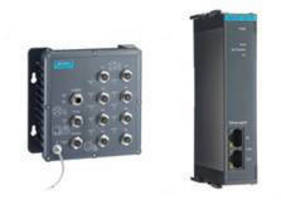 Victor, NY, USA: L-Tron Corporation, joined with the Advantech's Industrial Automation Group, presents several new industrial Ethernet connection devices. The 8-port EKI-6558TI and EKI-6559TMI Ethernet switches consistently facilitate Ethernet transmissions for railway passenger information applications, as well as for industrial communication and video surveillance applications. The APAX-5072 is a high-density Ethernet IP communication coupler for I/O (input/output) applications, such as PLC or control application needs. The APAX allows users to cost-effectively build Ethernet IP remote I/O systems, while connecting to any Ethernet IP master.

The EKI-6558TI and EKI-6559TMI switches each have EN50155 certification and IP67 ratings, ensuring reliable connections to Ethernet networks. The EKI-6559TMI additionally offers two fiber optic ports, guaranteeing interference-free connections and extended communication range. Both switches are designed to withstand tough environments and come equipped with watertight and weatherproof cases, protecting against mechanical stress, moisture, dirt, or dust. Stressful conditions are no match for these switches, as transmission perseveres despite the toughest events, including inconsistent voltage, changing temperatures, bumps, vibrations, surges, magnetic fields, and conducted emissions.

The APAX-5072 can link with any Ethernet IP master through its Open DeviceNet Vendors Association (ODVA) authorization, enabling the easy construction of a reliable Ethernet IP remote I/O solution. Featuring two RJ-45 ports with the same IP address, users can economically build daisy chains to directly connect of remote I/O devices without additional Ethernet switches. The APAX features high density I/O, flexibility, scalability, and hot swap functionality to connect digital or analog I/O modules when building remote I/O systems.

About L-Tron Corporation:

Founded in 1975, L-Tron is a value-added solution provider, collaborating with clients and key business partners to fully understand the challenges impacting their organizations. We help our clients become peak functioning businesses and government agencies, increasing their efficiency and enhancing support to their end users and constituents. To provide a total solution, we bring together services, combining our distinctive hardware and software capabilities in data collection and workflow processes with the most advanced technology in barcode, scanning, data collection, RFID and mobility.

L-Tron combines experience and comprehensive capabilities across key industries and businesses to support commercial organizations, manufacturing, healthcare, OEMs, law enforcement and government agencies globally.

For more details on our offerings, please contact L-Tron Corporation (toll free in the US) 800.830.9523, via email:Sales@L-Tron.com, or visit www.L-Tron.com.