Miller and ITW Welding North America Companies to Showcase Welding Solutions, New Technologies at 2012 Global Petroleum Show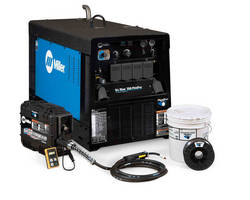 Industry leaders join together (outdoor - booth 3731) to bring welding solutions to professionals in the global oil and gas industry, and will introduce the latest welding equipment, accessories and filler metal technologies designed to improve welding productivity and quality.

APPLETON, Wis. - Miller Electric Mfg. Co., Hobart Brothers Company and Bernard will showcase integrated pipe welding system solutions, as well as introduce new welding equipment, accessories and filler metals at the 2012 Global Petroleum Show, held June 12 to 14 at Stampede Park in Calgary, Alberta, Canada. Weldcraft will also be in attendance, displaying TIG torches and accessories for pipe welding, and Tregaskiss will display its semi-automatic MIG welding guns. These industry leaders (outdoor - booth 3731) will offer live welding demonstrations highlighting new welding technologies and processes for pipeline applications, and have experts available to assist booth visitors with product and process questions. The Miller Road Show truck featuring interactive weld cells and demonstration areas will also be at the booth.

Industry-leading technologies featured in the booth will include:

o Big Blue® 350 PipePro® System: a fully integrated system designed for the demanding world of pipeline welding. Components of the system include:

- Miller Big Blue® 350 PipePro® diesel engine-driven welder/AC generator

- Hobart Brothers Fabshield® 79T8 self-shielded, flux-cored tubular wire (E71T8-Ni1 J H8)

- Miller SuitCase® X-TREME(TM) 8 HD wire feeder

- Bernard PipePro Dura-Flux(TM) Gun with replaceable power cable liner

- Miller Wireless Remote Hand Control

o An industry exclusive, the Miller Big Blue 700 Duo Pro - a complete multi-process and multi-operator welder/generator that delivers two independent pipe welding quality arcs in one complete package. It also features two independent generators (5,500-watts peak/4,000 watts continuous and 27,000-watts peak/20,000 watts continuous) for running jobsite tools, accessories or even additional inverter-based welding systems.

o Miller ProHeat(TM) 35 Induction Heat System is an industry exclusive, simple and cost-effective heating process that delivers fast and consistent heat for pre-heating, post-weld heat treatment, coating removal and more - all without heating gas.

o The Miller Trailblazer® 302 Air Pak(TM) offers true 4-in-1 performance as a welder, generator, air compressor and battery charger/jump starter. This machine is ideal for service truck use and is an excellent tool for new construction and MRO.

o EnPak® Mechanic Series is an industry exclusive diesel engine-driven air compressor, hydraulic pump and generator that integrates into a truck's fuel and electrical supply, allowing full functionality with the truck engine turned off, lowering fuel use and idle time, reducing noise and extending the life of the mechanic's truck.

o Miller Arc Armor(TM)is a full line of welding safety gear and equipment designed specifically for welding applications. Miller will showcase everything from auto-darkening welding helmets and jackets to heat stress relief products and powered air purifying respirators.

o Hobart Brothers Fabshield® X80 self-shielded flux-cored wire, designed for use on X80 pipe and applications requiring high impact toughness at low temperatures.

o Hobart Brothers Metalloy® 80N1 metal-cored wire, utilized for root pass applications on X80 grade pipe (and below) using the Miller Regulated Metal Deposition (RMD®) process.

o Tregaskiss TOUGH GUN(TM) Semi-Automatic MIG Gun, designed for heavy-duty welding applications, particularly in harsh environments. The guns are enhanced by the TOUGH LOCK(TM) Consumables, which help minimize consumable changeover and the associated downtime.

o Tregaskiss TGX(TM) Semi-Automatic MIG Gun for light- to medium-duty welding applications. The gun is available with two handle sizes and in models ranging from 180 to 400 amps.

o Weldcraft's CS-300 TIG torch, featuring high air-cooling capacity that eliminates the need and expense for complex water-cooling systems and increases portability on the job site.

About Miller

Miller Electric Mfg. Co., headquartered in Appleton, Wis., is a leading worldwide manufacturer of Miller brand arc welding equipment and is a wholly owned subsidiary of Illinois Tool Works Inc. (NYSE: ITW).

For more information, visit Miller's website at www.MillerWelds.com, call 1-800-4-A-Miller (800-426-4553), e-mail info@millerwelds.com, fax 877-327-8132, or write to
Miller Electric Mfg. Co., P.O. Box 100, Lithonia, GA 30058.

Social Media

About Hobart Brothers

Hobart Brothers is dedicated to the highest level of Performance Welding(TM). For product specification sheets or to learn more about Hobart Brothers products, visit Hobartbrothers.com, call 1-800-424-1543, fax 1-800-541-6607, or write Hobart Brothers Company, 101 Trade Square East, Troy, OH 45373.

Hobart Brothers Company of Troy, Ohio, is a leading manufacturer of welding filler metals marketed under the brand names Hobart, Tri-Mark, McKay and Corex. Hobart Brothers Company is a wholly owned subsidiary of Illinois Tool Works, Inc. Based in Glenview, Ill., ITW is a multinational manufacturer of a diversified range of value-adding and short-lead-time industrial products and equipment.

About Bernard

For more information about Bernard's welding products, visit www.bernardwelds.com, call 1-800-946-2281, fax 708-946-6726, e-mail info@bernardwelds.com or write Bernard, 449 West Corning Road, Box 667, Beecher, IL 60401.

Bernard Welding Equipment, located in Beecher, Ill., manufactures premium GMAW (MIG) and FCAW (flux-cored) welding guns, consumables, accessories and manual arc products. For more than 60 years, Bernard has been an innovator in heavy-duty MIG welding and a contributor to improved welding productivity.

About Tregaskiss

For more information on Tregaskiss Products, call 1-877-737-3111 or fax 1-877-737-2111 (in Canada and USA); write Tregaskiss, 2570 North Talbot Road, Windsor, Ontario, Canada, N0R 1L0; email info@tregaskiss.com or visit Tregaskiss.com. Outside North America, call +1-519-737-3000 or fax +1-519-737-2111.

Tregaskiss is an industry leader in the development and manufacturing of MIG welding guns and peripherals, and offers its products worldwide. Its brands include TOUGH GUN(TM) Manual, Robotic MIG Guns and Peripherals, TGX(TM) MIG Guns and TOUGH GARD(TM) Anti-Spatter. Tregaskiss is a wholly owned subsidiary of Illinois Tool Works Inc. (ITW), Glenview, Ill. ITW is a diversified multinational manufacturer of highly engineered components, assemblies and systems.

About Weldcraft

Weldcraft is the world's leading manufacturer of GTAW (TIG) welding torches and accessories. A broad line of premium products includes the unique Crafter Series, WP Series, MicroTigTM and Quick Connect SystemTM.

For more information, contact Weldcraft at 800-752-7620 or 920-882-6800; fax: 920-882-6840; visit www.weldcraft.com; e-mail customerservice@weldcraft.com or write to Weldcraft Customer Service, 2741 N. Roemer Road, Appleton, WI 54911.


More from Laboratory and Research Supplies and Equipment