Mexico's Automobile Industry Powers Forward, Ipsen and Imesaza Aid Expansion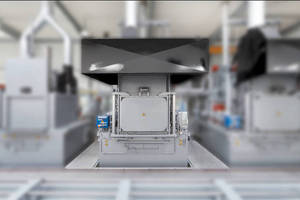 CHERRY VALLEY, IL – Ipsen, the industry leader in heat treatment equipment, is working hand-in-hand with major suppliers from the European Automotive industry to further expand into Latin America's most interesting market: Mexico. As Imesaza, Spain's largest heat treatment company, branches into Mexico under the name Imexaza, Ipsen provides their new production center with critical support in the form of advanced heat treating equipment, as well as innovative process management and control systems. The collective know-how between Imesaza and Ipsen includes 65 plus years of expertise and application, all of which is now being applied in Mexico, making it possible to manufacture high-quality components.

The new Imexaza production facility is near the famous "Carrerra Panamericana" transcontinental highway, which runs from Alaska to Tierra del Fuego. The location makes it a close neighbor to primary customer facilities, whose supporting shells for bearings are heat treated by Imexaza in Ipsen-manufactured furnaces. Along with supplying the Mexican operations of Audi, VW and Mercedes, Imexaza also works with renowned suppliers CIE Automotive and ZF, as well as the turbocharger expert ITP.

Marcos Garcia Jimenez, Ipsen Sales Manager for Spain and Mexico, adds his own perspective – which results from extensive experience in both markets – on this phenomenon: "Mexico is becoming more and more important for established companies in the Automobile industry. It has long ago made the transition from manufacturing cheap components to high-tech production. Our catalog of the most sophisticated heat treatment equipment in the world, combined with our on-site service, allows us to offer proactive support and help the Automobile industry produce top-quality components directly in Mexico."

Well-known brands, companies and suppliers have been producing highly complex components and engaging in progressive research and development in Mexico for a number of years. Today, Mexico's production continues to power forward and provide first-class parts and services. To read the entire article, visit http://bit.ly/IpsenMx.

About Imesaza
Imesaza, founded in 1965, is a leader in the heat and thermochemical treatment sectors. Located in Vitoria-Gasteiz, Imesaza has the increased ability to serve a wide range of regions. Recently, they introduced a sister company in Mexico, Imexaza SA de CV. With their modern heat treatment facilities they are able to offer customers a diverse range of processes, extensive support from their Management and Quality Departments and comprehensive, first-class customer service.

About Ipsen
Ipsen designs and manufactures industrial vacuum furnaces, atmosphere furnaces and supervisory control systems for a wide variety of thermal processing markets, including: Aerospace, Commercial Heat Treating, Medical, Energy and Automotive. With production locations in Europe, America and Asia, along with representation in 34 countries, Ipsen is committed to providing support for customers worldwide. Choosing Ipsen means choosing a partner in success.
More from Machinery & Machining Tools