Mazak Announces New MTConnect Energy Dashboard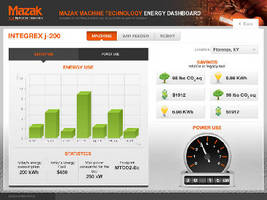 Florence, Kentucky, - Mazak has announced that it will be demonstrating the Mazak Energy Dashboard at IMTS 2010. The Mazak Energy Dashboard exemplifies how the MTConnect communications protocol can be used to provide manufacturers with cost savings and boosts productivity and efficiency. Mazak will be located in booth S-8300 at IMTS 2010.

The Mazak Energy Dashboard is an interface that provides real-time monitoring of energy usage, environmental impact and carbon footprint for a wide variety of machine tools and peripherals. The software identifies key drivers of energy expenses so that they can be managed and minimized, as well as helping manufacturers minimize their effects on the environment.

"Mazak has been an ardent supporter of MTConnect since its inception several years ago," says Brian Papke, president of Mazak. "The Mazak Energy Dashboard is representative of the first generation of applications that will really start to harness and demonstrate the potential of this powerful tool for manufacturers. Increasingly, MTConnect will become a valuable tool in which customers can improve productivity, machine utilization, and efficiency."

Also on display in Mazak's booth will be Insight, a revolutionary factory productivity management solution. The program monitors real-time performance of equipment and uses computational algorithms to detect opportunities for eliminating unplanned downtime and reducing planned downtime. Insight offers a complete picture of a facility's performance, helping managers to improve productivity, reduce overhead, lower energy costs and boost profitability.

Mazak first highlighted some of the potential of MTConnect at IMTS 2008. The new demonstrations showcase how the technology has evolved over the past two years to provide tangible benefits to American manufacturers.

About Mazak Corporation

Mazak Corporation is a leader in the design and manufacture of productivity-improving machine tool solutions. Committed to being a partner to customers with innovative technology, its world-class facility in Florence, Kentucky recently initiated a $9 million manufacturing expansion. The facility's "Production on Demand" manufacturing concept uses the latest in machine tool technologies as part of its lean strategy. Continuous training and development of the workforce has created a "lean" culture, which has created opportunities for continuing growth in America. Mazak maintains eight Technology Centers across North America to provide local hands-on applications, service and sales support to its customers. For more information on Mazak's products and solutions, visit www.mazakusa.com.

More from Electrical Equipment & Systems