JLG Demonstrated Award-Winning LiftPod® Work Platform at National Hardware Show 2010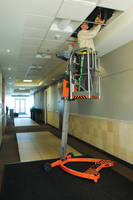 Product Helps Improve Safety, Productivity When Working at Heights

McConnellsburg, Pa. - May 21, 2010 - JLG Industries, Inc., an Oshkosh Corporation company [NYSE:OSK] and a leading manufacturer of aerial work platforms and telescopic material handlers, announced today the innovative LiftPod® portable aerial work platform was on display at the National Hardware Show that took place May 4-6 in Las Vegas.

According to Liberty Mutual's 2009 Workplace Safety Index, falls to lower levels are the third most-disabling workplace injury in the U.S. and result in an estimated $6.2 billion in worker-compensation costs. The LiftPod, designed as a replacement for the ladder, gives users a stable, enclosed work platform so they can work freely and with both hands at a 14-foot working height.

"The secure JLG LiftPod addresses an unmet need in workplaces around the world for a product that can help improve worker safety for jobs at heights," said Randy Marzicola, JLG Industries director, channel development. "Workplace falls can have significant health, financial and morale impacts on facility managers, maintenance professionals and construction workers. Additionally, ladders, scaffolding and fall protection consistently appear among OSHA's top 10 citations."

A national survey conducted by JLG in 2010 queried the purchasing priorities of more than 230 facility managers and maintenance workers when evaluating new equipment. Sixty percent of respondents said safety was the most important feature when making their decisions, far ahead of productivity/efficiency, which was ranked as the most important feature by only sixteen percent of respondents.

Attendees at the National Hardware Show had the opportunity to see the lightweight and affordable LiftPod first-hand. JLG provided demonstrations of this first-of-its-kind product, which gives users a stable and enclosed platform for any number of jobs at heights.

The LiftPod can be operated using a common 18-volt cordless drill or optional power pack. It is 25 percent the weight and cost of traditional work platforms, giving workers an affordable product that can be operated, transported and assembled in less than 30 seconds by a single person. It can be stowed in the back of a pick-up truck, van or SUV for convenient site-to-site transportation. An attachable work tray keeps tools and supplies readily available while working.

To learn more about the LiftPod or to see it in action, please visit www.liftpod.com or contact 877 2-LIFTPOD (877-254-3876).

About JLG Industries, Inc.

JLG Industries, Inc. is the world's leading designer, manufacturer and marketer of access equipment. The Company's diverse product portfolio includes leading brands such as JLG® aerial work platforms; JLG, SkyTrak® and Lull® telehandlers; and an array of complementary accessories that increase the versatility and efficiency of these products. JLG is an Oshkosh Corporation company [NYSE: OSK].

For more information about JLG Industries, Inc., log on to the company Web site at www.jlg.com.

About Oshkosh Corporation

Oshkosh Corporation is a leading designer, manufacturer and marketer of a broad range of specialty access equipment, commercial, fire & emergency and military vehicles and vehicle bodies. Oshkosh Corp. manufactures, distributes and services products under the brands of Oshkosh®, JLG®, Pierce®, McNeilus®, Medtec®, Jerr-Dan®, Oshkosh Specialty Vehicles, Frontline(TM), SMIT(TM), CON-E-CO®, London® and IMT®. Oshkosh products are valued worldwide in businesses where high quality, superior performance, rugged reliability and long-term value are paramount.

For more information, log on to www.oshkoshcorporation.com.