The Light Side: The Most Obvious Scientific Findings
Plus: Hack Your Living Room Into a Video Game Racetrack; Psychic Readings Are Psycho Halloween Pranks; and TinyScreen Is a Thumb-Sized Color OLED Display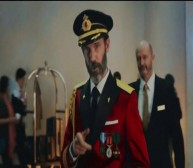 Thanks for telling us about these, Captain Obvious. Sometimes, we really don't need science to explain things that mere common sense should allow us to figure out. However, science doesn't really care what you think, deciding that anything that can be proven should be -- and it ain't true, technically, unless proven so -- with the banal findings to be elucidated to the most excruciating level. So here are the top 10 "no duh!" scientific findings, as compiled by LiveScience. 10. High heels lead to foot pain. "

We found an increased risk of hind-foot pain among women who wore shoes, such as high heels or pumps, that lack support and sound structure," said study team member Alyssa B. Dufour, a graduate student at the Institute for Aging Research of Hebrew SeniorLife. Nooooo, really?

9. Pigs love mud. Mud baths are cool -- literally. 8. Co-ed dorms fuel sex and drinking. A 2009 study by the Journal of American College Health found co-ed dorms led to 2.5 more times binge-drinking and more boom boom boom. 7. We all want to date a hottie. Because looks *are* everything. It's nature. Humans are just like any other animal and want a sexually attractive mate. 6. Smoking pot and driving isn't safe. The journal Epidemilogic Reviews says being high behind the wheel raises the risk of car crashes -- double the risk, actually. 5. Eatings lots of red, processed meat is unhealthy. A study in 2009 of 500,000 people discovered those who ate more saturated-fat-filled red meat have increased risk of death, specifically from cancer and heart disease. For the rest of the list of most obvious scientific findings, view the LiveScience gallery.
Hack Your Living Room Into a Video Game Racetrack Ken Kawamoto took a robotic toy, some cameras, and a projector to build a Mario Kart speedway in his living room. The result is up on his blog, and the racing looks spectacular. RomoCart is one of Kawamoto's series of home hacks. Romo is the robotics platform controlled through an iPhone app that the team used to recreate the video-game racing system many of us grew up playing. The camera is mounted above the floor and takes in visual information, synthesizing it into the best possible racetrack based on the objects placed on the floor.  Teapots, books, a teddy bear, pillows, and one sleeping prone body are used in the video as examples of object-to-racetrack creation. A great function of this live-action gaming app is the addition of the player as a human instead of a controller. We not only get to see the track as three-dimensional objects but can also stomp onto the track to stop missiles that are fired at our cars. Missiles and bananas are the objects familiar to gamers that allow the two racers to impede the progress of their opponents. Fireworks go off when a racer crosses the finish line and the familiar "one, two, three... go" beeps are present at the beginning of the race. RomoCart is incredible as an engineering project and as a gaming project. The target audience is huge across the world, and bringing game play into the physical world is amazing. The source code is not yet released for RomoCart, but the website says it's coming soon. This is an expensive, complicated project, but the finished product looks worth the effort. The game is presented at the kawalobo website like an engineering project, complete with a Summary section. The authors tell us that they hope their work will inspire others to start similar undertakings that combine gaming and real-world environments. Watch the RomoCart video. This article was originally published on Engineering.com and is adapted in its entirety with permission. For more stories like this please visit Engineering.com.
Psychic Readings Are Psycho Halloween Pranks October is the month of new horror movie releases in the lead-up to Halloween. And that can only mean the crack team at ingenious viral marketing agency Thinkmodo were at it again, freaking New Yorkers out in support of an upcoming scary movie, including two co-anchors from NBC's "Today" show. Thinkmodo, responsible for a "telekinetic" prank last year and the wicked "devil baby in a stroller" stunt earlier this year, had some candid-camera fun with "Today"'s Natalie Morales and Jenna Bush Hager. Thinking they were on a Halloween-related assignment, the two visited a storefront psychic -- only it was an actress with a gross-out ability sitting in a room with rigged floorboards. In the viral video, phony medium Jalissa Thompson talks Morales and Bush Hager into playing ouija board. When it spells out "run," Thompson screams and nearly pops her eyes out of their sockets, while a zombie-like figure jumps out of the floor, sending the two fleeing in terror, but not before Morales falls backward on her behind. Thompson said on Today, "They were the best reaction of my day!" There were plenty of other good freak-outs by regular New Yorkers who were lured into the fake store by a free reading offer in "Ouija Psychic Terror." Getting his just desserts was one unsuspecting customer who was too tempted by a free psychic session, even though he admitted that his grandmother told him to "never mess with a ouija board." Thinkmodo was hired by the producers of the movie "Ouija," which will be out on Oct. 24, to help promote it with a guerilla-style viral campaign.
TinyScreen Is A Thumb-Sized Color OLED Display 

Ken Burns and his team at TinyCircuits successfully ran a Kickstarter campaign in 2012 for their 

TinyDuino 

platform. After several maker projects involving light-emitting diode (LED) displays, the team decided to try some organic LED (OLED) projects. Seeing prototypes of the first OLED screens and being inspired by their look and feel, they decided that the technology would allow people to create great new maker devices, like smart watches or glasses.

TinyScreen not only gives users a great display screen for their projects but the infrastructure exists that the users can build almost anything with it. With the existing TinyDuino kits, you can pick and choose components to stack together like little electronic Legos.

Codebender is the team's programming partner, and several applications already exist for users to use. The Kickstarter campaign video shows smartglasses, a smartwatch, jewelry, a server load display, and a tiny video game console. Many of these applications work without any programming, just downloading the code and assembling the device.

The smart watch is the most developed TinyScreen project. An open-source app already exists, compatible with iPhone and Android, that gives the user options for what will be displayed on the watch. Phone calls, texts, and tweets can be displayed. Files are available to download and print three-dimensional enclosures for the watch, and the company also plans to sell its own enclosures in the future. TinyScreen is amazing, and the project has already more than doubled its funding goal in the first week of the campaign. The money is set to purchase the first round of OLED screens. The first project in 2012 allowed the team to learn several lessons about manufacturing, quality control, and assembly. Making a large variety of low-volume products means that in-house manufacturing makes the most sense. Seeing a company build on its previous success with Kickstarter to move its projects to another level is great. This incremental innovation is inspiring, and the company plans to continue developing more tools for the Internet of Things. View its video here. This article was originally published on Engineering.com and is adapted in its entirety with permission. For more stories like this please visit Engineering.com.