Burlington, Ontario - (July 5, 2007) - Wheelabrator Group, with its years of diverse experience in the surface preparation industry, continues to lead innovation. With a background in centrifugal wheelblast and airblast equipment including manual and automated operation, the next logical step was to combine the features and advantages of either style of media propulsion. Wheelblast®...
Read More »
CHARLOTTE, N.C., June 17 /- (Paris Air Show) - As the history-making Boeing 787 Dreamliner prepares to be unveiled in Everett, Wash., Goodrich Corporation (NYSE:GR) is once again poised to play a role in the history of the industry. According to Goodrich's Jack Carmola, Segment President, Actuation and Landing Systems, Across the Goodrich enterprise we have a true sense of pride and...
Read More »
o LOT will be first European carrier to add the Dreamliner to its fleet CHARLOTTE, N.C., June 17 /-- (Paris Air Show) -- LOT Polish Airlines has selected Goodrich Corporation (NYSE:GR) to supply wheels and electric brakes for its addition of eight Boeing 787 Dreamliners to its fleet. In addition to the eight firm orders, LOT Polish has purchase rights for an additional eight aircraft. With this...
Read More »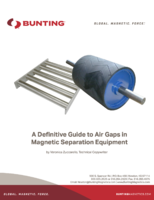 This guide discusses how air gaps affect magnetic separation applications.
Read More »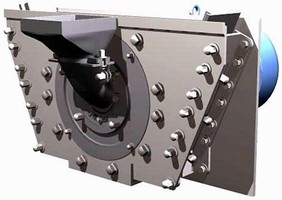 Designed for machines that must meet surface preparation requirements of pipe coating industry, Upblast EZEFIT(TM) Wheel covers 2-120 in. dia pipe sizes and offers bidirectional operation for clockwise or counterclockwise applications. It mounts in blast cabinet and is positioned under pipe to maintain close and consistent distance to underside portion of pipe. Location results in removal of...
Read More »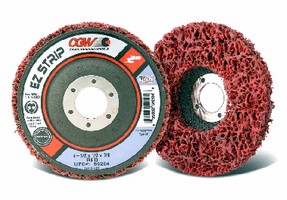 Engineered for cleaning of welds and removal of abrasive clogging materials, EZ Strip Non-Woven Wheels come in 4Â-½ and 7 in. diameters with 7/8 or 5/8-11 arbor holes. Red wheels are suited for finishing angled and irregular surfaces, while black wheels are intended for cleaning and satin finishes. All can be used on stainless steel, aluminum, steel, non-ferrous materials, fiberglass, and...
Read More »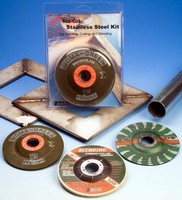 Rex-cut® Stainless Steel Kit includes four 0.045 in. thick Alpha-Green cut-off wheels capable of cutting pipe, rod, or tube; one Sigma-Green grinding wheel that aggressively removes heavy welds with chatter-free operation; and one cotton-fiber blending and finishing wheel that reveals fresh abrasives as it works, producing 32 rms or better finish. Designed to work with right-angle grinders,...
Read More »
CLEVELAND--Alcoa's (NYSE:AA) aluminum top plate forging enabled SAF-HOLLAND to shed 100 pounds in weight and to integrate NoLube® technology in the world's lightest and first commercially available aluminum fifth wheel for tractor-trailers. Our product development team applied our rolling wheel technology and leading aluminum alloy expertise to SAF-HOLLAND's fifth wheel requirements in...
Read More »
Designed to replace dual wheels on transit applications, part no. 856520 is 22.5 x 15 in. wide base wheel option that weighs 71 lb and has 13,500 lb max load rating. Use of product can help save fuel by reducing rolling resistance associated with single wide tires. One-piece, forged design also promotes heat dissipation for extended tire and brake life.
Read More »
Minimizing maintenance needs, Dura-Bright® technology penetrates and reacts with aluminum to become integral part of wheel. Wheels resist peeling, cracking, and corrosion, as well as brake dust, dirt, and road grime, allowing driver to maintain vehicle's appearance with just soap and water. Aftermarket truck and SUV wheels with Dura-Bright technology are engraved with icon to identify that...
Read More »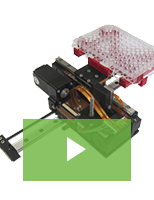 TPA Motion's microplate handling robots are designed specifically for medical instruments and lab automation devices. Check out the video to learn more.
Read More »