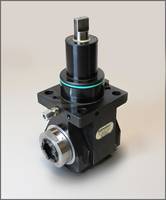 Market leader in live tooling can supply complete range of products for new Haas BMT Turret Heimatec, a market leader in live tooling for the North American machine tool industry, announced today that it has an extensive line of tooling available for the new Haas BMT turret. The line includes a variety of driven tools (axial and radial drilling & milling heads) as well as static tool holders....
Read More »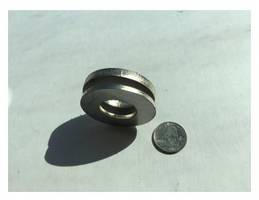 2 cut samples a 10 Ga washer and .250" washer cut from 304 Stainless Steel by fiber laser using INTO-N2 Ultra-High Pressure, High Purity Nitrogen Generator. These washers are cut from 304 SS (thicker washer is .250" – thinner washer is .140") on a 4000W fiber laser and the assist gas was Nitrogen generated from shop air to 99.99% from INTO-N2's new high purity, high pressure Generator...
Read More »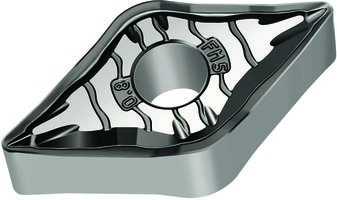 Walter's Indexable Inserts are available in WSM10S, WSM20S and WSM30S models with PVD Al2O3 grading and WMP20S model with CVD grade. Units feature Walter's Tiger·tec® Silver coating and RM5 and FM5 geometries. Inserts with jet guiding geometry maximizes cooling effect and are used in standard ISO turning toolholders.
Read More »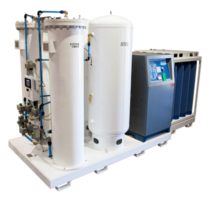 PSA-6000/PB-4500 PSA Nitrogen Generator is equipped with 4,350-psi boost pump that is used for compressing air into high pressure cassettes. Enabling users to continuously produce 99.99% pure N2 gas at 4,350-psi pressure, unit is suitable for laser cutting applications. Generator comes in 48 x 48 in. and 60 in. tall rack.
Read More »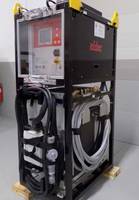 With 1,500 lbs weight (including water for the chiller), Hoistable Induction Generator System can be operated in -20 to +120°F temperature range. Unit's frame features four tie-down eyes that are useful in securing the framework to a truck bed. Unit comes with fitted tarp and 2,000 lbs rated lift certified frame.
Read More »
Basalt's Rock Rebar® has been approved for use in the Halls River Bridge. Concrete reinforcements from Basalt are available in three forms: FRP's (Fiber Reinforced Polymers), GFRP (Glass Fiber Reinforced Polymers), and BFRP (Basalt Fiber Reinforced Polymers). 
Read More »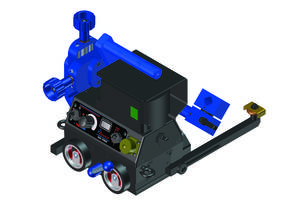 Equipped with a 14.4V lithium ion battery, the Battery Powered Li'l Runner Welding Carriage combines portability with high-quality welds. The unit weighs just over 17 pounds (8 kg) and produces quality welds with consistency and precision. Featuring a cast aluminum housing and 4-wheel planetary gear drive system, the Battery Powered Li'l Runner can be used anywhere line voltage is not...
Read More »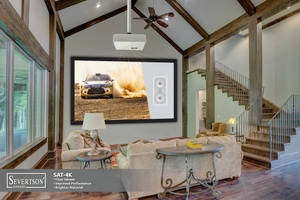 Now Shipping, the Made in the USA, Next Generation Enhanced SAT-4K Offers a Finer Weave and Brighter White Material for Increased Visual Performance While Not Impairing the SAT-4K's Original Acclaimed Acoustic Abilities Mesa, Ariz., July 24, 2017 – Severtson Screens (www.severtsonscreens.com), a global leader in innovative and quality projection screens for the home theater, commercial,...
Read More »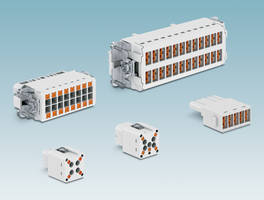 Available with fixed number of positions and push-in termination option, Twin-PT Contact Inserts are compatible with common transmission lines. Suitable for standard housing types, box-mounting bases and EVO double-outlet plug housings applications, units enable two conductors to be wired in one contact point.
Read More »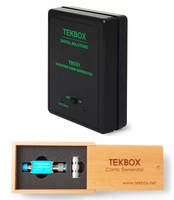 Available in TBCG1 and TBCG2 models, TekBox TBCGx Comb Generators are used for testing radiated noise measurements. TBCG1 generator comes in 3.2 x 2.4 x 1.1 in. size and powered by 9V alkaline cell. With built-in dipole antenna, TBCG1 is used to emit vertically or horizontally-polarized signals and consumes current of 175mA. TBCG2 generator comes with N female input connector and N male output...
Read More »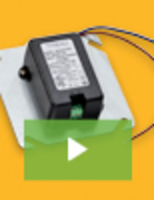 Triad Magnetics is an established leader in power supply innovation, offering product lines that span a wide range of diverse industries and applications. Adding to their long list of successful product launches, Triad announces the release of the new cutting-edge JSU Series of power supplies. To learn about all of its advantages and advanced features, see our video.
Read More »