Dynamic Waterjet(TM) features Active Tolerance Control(TM), where patented software models control articulated wrist cutting heads to automatically adjust cutting angles for specific accuracy and part tolerance requirements. It cuts metal, stone, or composite parts ranging from 0.050 to 6+ in. thick.
Read More »
Check out this white paper to learn about the benefits of dry ice blasting.
Read More »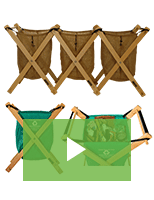 Harpro's MiddleMan™ recycling container frames and reusable bags are made from eco-friendly material, fold for easy storage, and are easy to assemble. Check out the video to learn more.
Read More »