The City of East Chicago, Indiana, has awarded Siemens a multi-million dollar contract to provide a Memcor pressurized membrane filtration system for a new water treatment plant. The 16-MGD (60.5-MLD) system, which will treat water from Lake Michigan, will be the first large-scale pressurized membrane plant in Indiana. It will also be Siemens' 12th membrane plant on Lake Michigan. American...
Read More »
Vantage VNX system is compact, modular skidded system designed to produce 50-900 gpm of deionized water from reverse osmosis feed. It incorporates Ionpure continuous electrodeionization (CEDI) technology, which is chemical-free process for deionizing water using combination of selective ion exchange membranes, conductive resins, and electricity to remove ions from water. High-purity water system...
Read More »
MicroDynamics® Closed Vessel Microwave Ultraviolet disinfection system utilizes microwave energy to energize bulbs and generate consistent-strength UV disinfection. Suited for municipal and industrial applications, it is able to treat flow rates of up to 1,200 gpm and is suitable for operations up to 145 psi. Multiple vessels can be arranged in series or parallel to maximize flow rate...
Read More »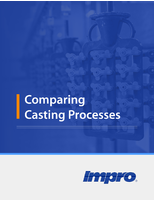 This white paper compares and contrasts common casting processes.
Read More »
(Fredericton, NB - February 10, 2009) - Golden Flake Snack Foods Inc. has awarded ADI Systems Inc. a multimillion dollar contract for a complete design-build ADI-MBR (membrane bioreactor) system to treat wastewater from its Birmingham, AL, production facility. Golden Flake produces a variety of snack foods, from potato, tortilla and corn chips, to pretzels and pork rinds. A major regional snack...
Read More »
Lifeline Ozone of Denver, CO is continuing their efforts to be a world leader in the purification industry through the research and development of ozone cleaning systems. Lifeline Ozone, is a leading provider of ozone systems- ozone pure water systems, water storage systems, remote water systems, and solar powered ozone systems. They put great effort into bringing innovation to the water...
Read More »
Johannesburg, November 11, 2008 - GE Water & Process Technologies, a unit of General Electric Company (NYSE:GE), has introduced its Mobile Water units in a demonstration to industry and media at the GE Midrand offices today. Customers in the region with critical treated water needs will now benefit from an emergency service to avoid shutdowns. The mobile water units are part of a global fleet,...
Read More »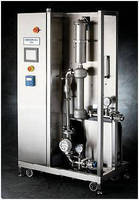 Offering alternative to chemical water treatment systems, LIQUOZON® Ultra generates ozone, dissolves it into water, and delivers degassed ozone-enriched water, making it suited for DI water loops, storage tanks, and distribution lines. Skid-mounted purified water system handles flows up to 50 gpm with minimum pressure drop. It is equipped with flow rate and ozone concentration controllers,...
Read More »
(CARNEGIE, PA - November 18, 2008) Many potable water tanks or reservoirs depend on a typical common inlet/outlet to maintain drinking water quality. This system often proves inadequate when water outside the common inlet/outlet area of influence becomes stagnant, creating dead spots where bacteria are likely to multiply. Tideflex Technologies' Tideflex® Mixing System (TMS) greatly improves...
Read More »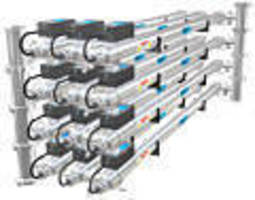 Designed for fluids with high ultraviolet (UV) absorbency, Infinity liquid disinfection purifier is available with custom configuration and modular design that allow for fluid flow and variations. Product features reflective interior surface and stainless steel sanitary fittings and accommodates flow rates from .5-12 gpm. Areas of use include pharmaceutical, food, beverage, and any water industry...
Read More »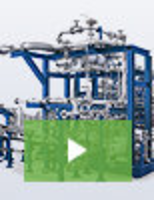 Aerzen is firmly established as a global leader in compressed air, gas, and vacuum solutions. Our reputation as an industry leader is built on consistently delivering innovative products that are at the cutting edge of technology. To learn about the industries finest blowers and oil-free and oil-injected screw compressors, see our video.
Read More »