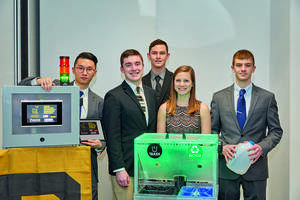 A team of engineering technology students from Purdue University's Polytechnic Institute will take its "T.R.A.S.H." to Germany for the second month in a row. During a trip in March, the team won first place in an international automation competition for designing and building an automated trash collection system. The grand prize for their victory: a trip to Hannover Messe, the world's...
Read More »
HELSINKI - Lassila Tikanoja plc the Finnish recycling powerhouse and ZenRobotics Ltd. the world leader in robotic recycling today announced LT is acquiring the ZenRobotics Recycler system. L&T is to install the ZenRobotics Recycler system in 2013 in the company's flagship recycling facility in Kerava, 30 km from Helsinki, Finland. The uptake of the system will further increase the recycling rate...
Read More »
Philadephia, PA – With the April launch of Helles Golden Lager, its ninth canned beer, Sly Fox Brewing Co. of Pottstown, Pennsylvania becomes the first brewery in North America to utilize the innovative 360 Endbeverage can technology developed by Crown Holdings, Inc. (www.crowncork.com). The entire lid of the can is removable, turning it into a drinking vessel and eliminating the need for...
Read More »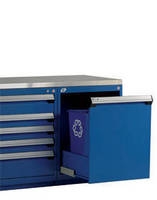 The waste and recycling drawer is an interesting option for integrating the sorting of these items in your storage solution. Offered in two different heights (17 and 26"), this drawer has two containers, one blue and one black, with identification on the side to facilitate the sorting of waste. Moreover, since there is a separator at the back, you can store other objects in the back of the...
Read More »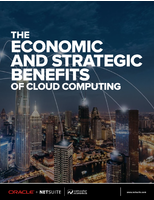 Cloud computing and software-as-a-service (SaaS) vs. on-premise systems and proprietary software, which one should you choose? Check out this report, and find out which solution is best for your IT needs.
Read More »
Veolia Environmental Services, one of Australia's largest waste management, recycling and industrial services providers has announced the extension of its RecyclePak system to cover 6 main waste/recyclable streams including hazardous waste materials. PYRMONT NSW, Australia - As a leader in waste management and recycling within Australia, Veolia Environmental Services can help businesses to reduce...
Read More »
Environmentally friendly Recycling Services from Badger Plug reduce flow of packaging components to landfills, provide roll packaging products at a reduced cost (Greenville, Wis.) - "Green" roll protection is a reality - recycled roll protection from Badger Plug can help the environment and the bottom line. Endboards, sleeve plugs, pallets and H/U channels from Badger Plug are all recyclable...
Read More »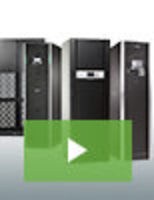 At 3Sixty Mission Critical, we specialize in maintaining the performance and uptime of our customer's mission-critical applications. Our services are comprehensive and designed to take on the entire burden of maintenance. Our "UPS as a service" is just another example of how we develop out of the box solutions to help our customers operate more efficiently; see our video to earn more.
Read More »