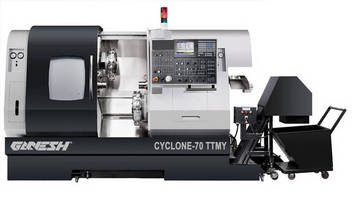 Suited for heavy-duty, complicated parts, Cyclone 70-TTMY isÂ- 40 hp machine with dual 16 station turrets and capacity for 32 live tools. Upper turret has full Y axis with ±1.968 in. of off-center movement, allowing completion of off-center works in same chucking. Other features include Mitsubishi M-720 CNC control and full C axis on main and sub spindle....
Read More »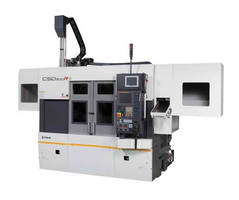 Vernon Hills, IL - Taking its CSD Series of lathes to the next level, FUJI Machine America Corporation has equipped its new CSD-300R with live tools for the fastest machining in its class. This twin spindle, twin turret lathe can in one setup achieve turning, milling and drilling in just 21.2 seconds from start to finish. For the fastest loading/unloading in its class, the CSD-300R boasts a...
Read More »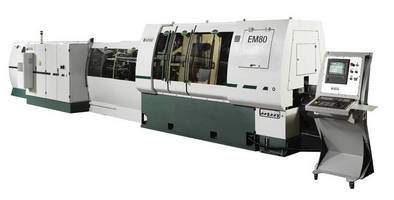 Wixom, MI, (www.blmgroup.com) a global leader in the manufacture of tube processing equipment will showcase its latest technology-a combined automatic sawing and end machining center for tube and bar processing in Booth E-4694 at IMTS '12, September 10-15, 2012, McCormick Place, Chicago, IL. This will be the first time that BLM GROUP, a traditional fabricating equipment manufacturer will exhibit...
Read More »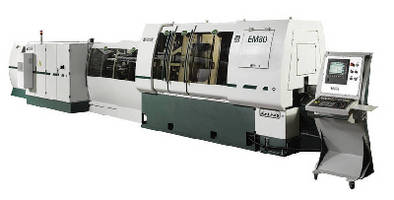 Combined automatic sawing and end machining center, Model EM80, is designed to cut, chamfer, face bore, thread, and profile. Machine handles tube diameters from 10-80 mm with wall thickness from 0.8-12 mm, plus solid bar from 10-60 mm and bar stock lengths from 2,500-120,000 mm. Operating in several stages or stations, machine offers cutting speed of 20-450 m/min. Included bundle loader handles...
Read More »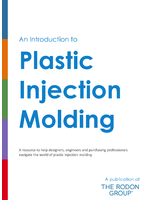 We developed this eBook with designers, engineers and purchasing specialists in mind. It is written to provide a basic understanding of plastic injection molding presses, processes and costs. Our goal is to make our customers more knowledgeable about what goes into making a plastic part.
Read More »
Highly automated technology delivers optimum productivity and accuracy when manufacturing precision parts EDM and micro-machining specialist RS Precision recently added the Mori Seiki NT-1000 Multi-Axis Turn Machining Center to its state-of-the-art facility. Designed for high-accuracy, high-precision manufacturing of small, complex parts, the Mori Seiki provides extraordinarily efficient done in...
Read More »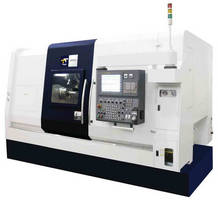 IMTS 2012, Booth S-8536 LORAIN, OH - Absolute Machine Tools, Inc., an exclusive North American distributor for several lines of advanced CNC machines, plans to showcase brand new technology from OEMs Tongtai and Quicktech. Of special interest is the two-turret, two-spindle Tongtai TMT-2000 8-axis Multitasking Turning Center cast from Meehanite iron. According to Absolute Machine, the TMT-2000 is...
Read More »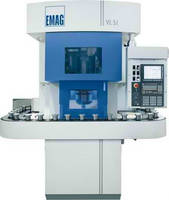 Booth: N-6846 Pavilion: Gear Generation (North Building) Perfect performance for turning and grinding processes High component quality with low production costs is required in many applications involving machining chucked parts. At IMTS, September 10 - 15, 2012 in Chicago, EMAG will be showing these solutions which combine these requirements. One of the highlights at the show will be the...
Read More »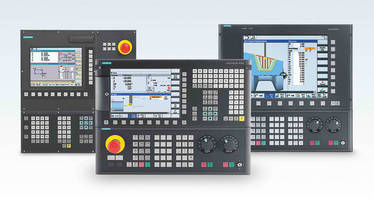 CHICAGO - At this year's International Manufacturing Technology Show (IMTS) in Chicago, Siemens will introduce new solutions and services for machine tool manufacturers and end-users. Under the theme, "Productivity in Motion," the presentation will focus on turnkey solutions for the job shop, aerospace, automotive, mold/die and medical part manufacturing industries. For machine tool builders and...
Read More »
Ephrata, PA - Astro Machine Works, Inc. adds a Romi E280 High Performance Multi-Tasking Turning Center. This machine allows us to perform turning, boring, milling and tapping - all in a single setup. This is a true multi-tasking machine, efficiently performing difficult and complex machining processes. The Romi E-Series machine is designed to fit the needs of mid and high volume production,...
Read More »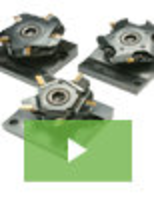 Thanks to the unique SpinSelect™ Multi-Pocket selectable quick change tool holder, it's time to rethink the range, complexity and volume of parts that your lathe can produce. Our Spin-Select™ tool was created to increase productivity and consistency by decreasing downtime associated with lathe cutting tool and insert setups or changeovers. This product is a game-changer for the industry and we're pleased to show you why.
Read More »